by John Pakarnian (writing for Japan Subculture Research Center)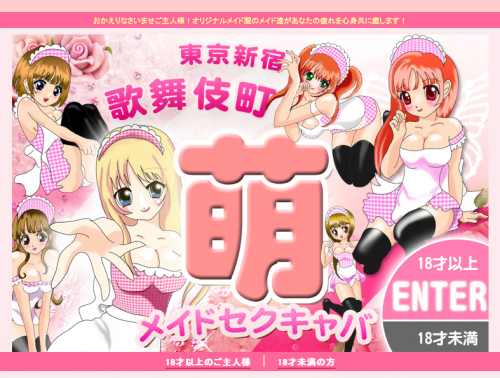 Taku Hachiro is probably the most unlikely sex symbol in the world. A talento known for his personification of the ultimate otaku stereotype, this Shizuoka native's long stringy hair, portly figure and gopher-like posture might make him better suited for the back corner of a video arcade than ads for the sex industry. But for over a year he has been promoting deai [hook-up] sites in manga magazines. In today's poor economy, peddlers of pleasure will do anything to attract new customers, including taking on an otaku image.
Otaku have been booming in the popular consciousness since 2005, when Fuji TV aired its prime time drama Densha Otoko, a beauty and the beast romance starring an otaku. Women's magazines raved about how the show championed otaku as new potential partners for middle-aged career women, but otaku remained incredulous. That same year, Toru Honda wrote Dempa Otoko, a manifesto calling for otaku to abandon "love" for human females and embrace "moe" for two-dimensional characters. His book sold 33,000 copies in three months, and fans planted signs in Akihabara reading, "Real Otaku Don't Desire Real Women."
But Honda is the voice of an extreme minority.
"We may have sworn off dating, but that does not mean we don't have sex," says Hiroyuki Egami, 23, a prominent voice among himote, a catchall for otaku types unpopular with the ladies. By Egami's estimation, paying for sex is easier and more honest than wining and dining women to prove oneself a worthy mate.
Those who share Egami's assessment may head to one of dozens of cosplay cabaret or image clubs found in Shinjuku, Shibuya and Ikebukuro. While many just use the terms of otaku culture such as moe to make a splash, some take pains to attract a demographic deeply involved with media images of the opposite sex.
"Pure-cos" in Shibuya caters to all of the fantasy wishes of its customers by offering close to one hundred costumes based on famous anime heroines. Employees are expected to talk the talk as well; on its hiring page, Pure-cos warns potential employees that customers will expect them to talk and converse about their favorite anime and manga. Staff are rewarded with all the manga they can read during breaks and coupons for the local Mandarake store.
The shift to more physical pleasures is also apparent in Akihabara. The omnipresent maids used to just pour tea, but the boom surrounding Densha Otoko has put cafes in fierce competition and encouraged a diversification of services. Royal Milk, for example, offers its customers "soul care," 60 minutes of one-on-one talk time with a maid for 9,000 yen. With a market of lonely men that ripe it was only a matter of time before talk shifted to sex.
The area in front of The Radio Kaikan used to be called Maid Row for all the costumed girls passing out fliers there. However, adverts for maid escorts—costumed girls who play the part of a temporary girlfriend–began to outnumber those for cafes, and authorities chased the maids off the street in June 2007.
Today, many men shopping in Akihabara have one or even two maids escorts by their side. They pay 1,000 yen per 10 minutes for the company and compliments on computer-buying skills. Maid escorts ostensibly work between 11 a.m. and 8 p.m., the operating hours of most stores in the area, but local authorities warn of "maid enjo" prostitution after dark.
It remains to be seen how purely "otaku" any of this is. Even as clubs using the otaku vernacular are on the rise, the major buzz in the community surrounds games such as Love Plus and Dream C Club. In the former, players can use their Nintendo DS to interact in real-time with a virtual girlfriend. The latter is a virtual hostess club, which simulates an ultra-real experience down to the overpriced drinks. Real money is exchanged for virtual currency to enjoy an array of services. While otaku imagery in the mizu shoubai world may be on the rise, it seems that otaku still prefer to pay for the not so real thing.
http://www.pure-cos.com/system/comic/comic.html
Editor's note:  The Otaku subculture is one that I'm no expert on and the definition of otaku is as varied and changing as the autumn sky. And often otaku have a very poor sense of humor about how they are portrayed or defined, as do self-proclaimed experts on otaku culture. So be it.  The first time I ever heard the word and vaguely understood what it meant was in 1999.  I was still on the police beat then and there had been a series of muggings in Akihibara, aka Akiba–the electronics district.  Wayward youth were targeting the cash-bearing teenagers who came to Akiba to load up on manga, games, dolls and other otaku lucre, and luring them into allies with promises of rare manga and such, only to beat the crap out of them and steal everything the poor victims had.  The youth gangs doing this coined a term for the practice, a take on 親父狩り (oyaji-gari–literally: hunting middle-aged men) which was a popular term for beating up old drunken salarymen and stealing their wallets–used by both the kids doing it and the cops investigating incidents.  The kids detained by the Manseibashi police referred to their misadventures as オタク狩り(otaku-gari/hunting otaku) . The term quickly became a new part of the criminal vocabulary.  Every few years, the story I originally wrote on it gets recycled and reported as if it were a new phenomenon. Well there is nothing new under the sun.  Of course, speaking of otaku, there was also the infamous Akiba-kun, a former otaku who went to work for Japan's largest organized crime group, the Yamaguchi-gumi, running the programs and databases for the 1,000 store loan sharking operation that the Goryokai managed from 2002-2004.  I wonder where he is now? Maybe running businesses in Akihabara?
For more on Otaku culture please check  out The Otaku Encyclopedia by Patrick Galbraith and also the tour book/audio guide to Akihabara by Patrick and Max Hodges. Whether you agree that the books are "authoritative" or not, they are good reads for novices like myself.  I should also say that I'm planning to do the narration for the revised Kabukicho tour with Mr. Hodges, so I'm not unbiased in my fondness of the Akihbara guide. It is fun and informative, at least I think so. (Jake Adelstein, assistant editor)