This August, Police in Fukuoka have started conducting organized crime education and awareness classes at middle and high schools in the prefecture. Prefectural police report that the current cultural tolerance of the yakuza often results in admiration of them by misinformed youth; indeed, many yakuza first participated in gang activities in their formative early teens. The police have therefore created this program to educate middle and high school students about the realities of yakuza life.
The curriculum includes ways of dealing with yakuza confrontations (for example, what to do when approached in the workplace by a yakuza demanding to be payed off), a run-down of how the yakuza make money (through drug smuggling, loan sharking and other illegal activities) and general advice on how not to get entangled in a gang.
Of the 69,000 students who had taken the class before June of this year, 24,000 were asked to participate in a survey. According to the results, 40% had some yakuza presence in their lives. 2% had reported they were even invited to join a gang. 97% of students reported that the classes were easy to understand, and that "they now understood the truth about the yakuza."
In the space allocated for comments, some reported that there were shootings near their house, and that they were afraid of being hit by a stray bullet.
Seven teachers have a special license to teach the class. They plan to visit 545 public and private schools at least once by March of next year.
Jake's note
In terms of eradicating the yakuza from general society, Fukuoka Prefecture is highly progressive. In March of 2010, convenience stores in Fukuoka prefecture, at the request of the police, stopped selling and handling yakuza fan magazines.
It's probably the beginning of the end for the fanzines. Without their use as recruitment tools and propaganda for organized crime, the Japanese public's attitudes towards them may begin to change as well. On several fronts Fukuoka is thinking ahead to create a society without yakuza, or at least one where it is difficult for them to recruit young blood.
In addition to the anti-yakuza curriculum they have created, the Fukuoka Prefectural Police Department, working in conjunction with the Centers to Eliminate Organized Crime, produced a realistic depiction of yakuza life in their educational film 許されざる者 ("The Unforgivable"). The film is a surprisingly accurate portrayal of yakuza life, the merits and demerits of the life.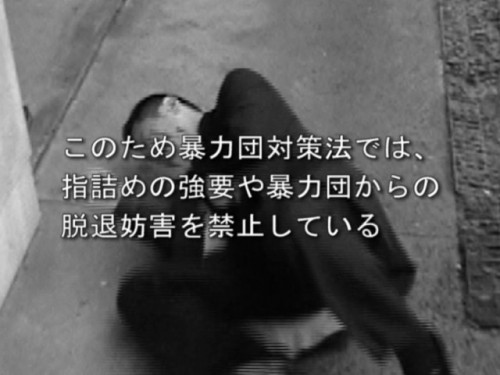 Yakuza cops play all the yakuza in the film, which gives the film a surprising amount of intensity. In many ways, its one of the best yakuza films in recent years.
The police will rent it to anyone who'd like to see it.