Tom of Finland (1920-1991) was a pioneer in LGBQT and homoerotic art, blazing a trial in Finland and his works have been shown all over the world. From today September 18th, his work will be exhibited for the first time in Japan (ever) at Parco Shibuya. In a country where alternative sexuality is still barely recognized and some politicians spew homophobic bile, it's a small accomplishment that the show is being held.
The exhibition will only last until October 5th.
The show has taken nearly years to put together, was delayed by COVID19, and ran into numerous obstacles along the way; thanks to the collective efforts of all involved, including the Embassy of Finland, the show is finally taking place. The whole story behind the curtains is told eloquently in this piece by Justin McCurry in The Guardian ↘
I almost gave up': Tom of Finland exhibition to finally open in Japan
The exhibition will show that his work was a catalyst for social change and acceptance of homosexuality while celebrating sensuality and the beauty of the male body. The curator of the exhibit and director of The Container, Mr. Shai Ohayon points out that Japan is still very much behind in the recognition of gay and LGBQT rights.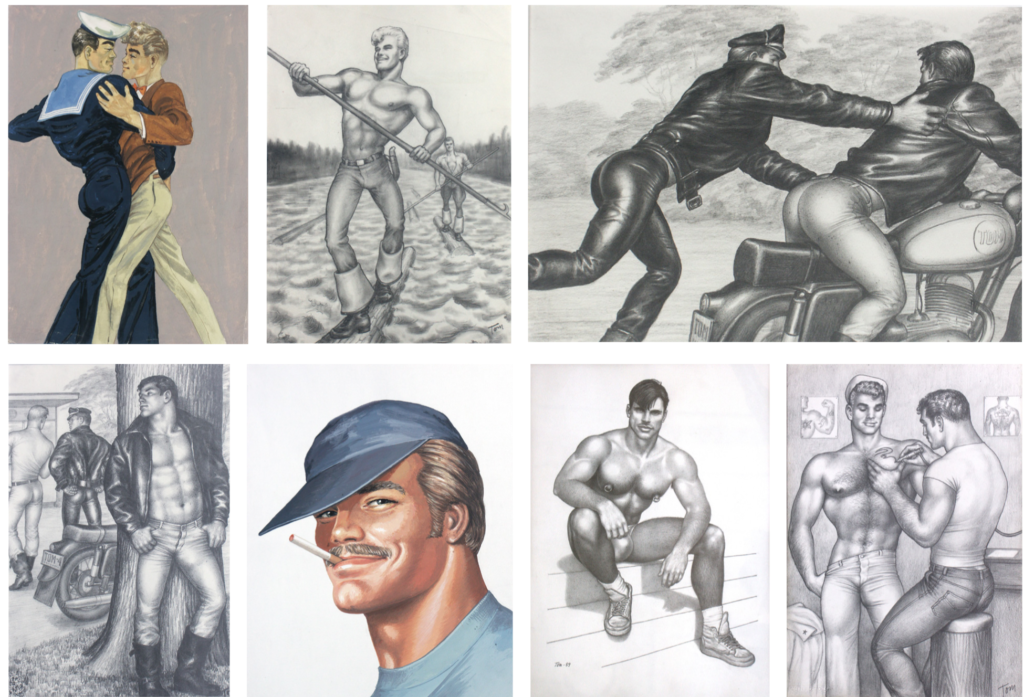 The exhibit is being sponsored by: The Finnish Institute in Japan. Finnish Institute in Japan. The Container (art gallery) and PARCO.
The exhibition was designed to coincide with Tom's 100th birthday anniversary and features a selection of 30 historical works, ranging from 1946 to 1989. They span the artist's entire professional career, and highlight both his artistic versatility and present his identity as an LGBTQ legend who paved the way for LGBTQ rights worldwide and helped to shape gay culture.
2020/09/18~2020/10/05 Reality & Fantasy: The World of Tom of Finland at GALLERY X (B1F, Shibuya PARCO) https://art.parco.jp/
Open hours 11:00-21:00 *Last entry time 30mins before close *Close at 18:00 in 10/05 Admission is 500 yen.
*Pre-school child not allowed in
A documentary on the importance of Tom of Finland and the meaning of his art will also be shown at at two different theaters during the exhibition. "Award-winning filmmaker Dome Karukoski brings to screen the life and work of one of the most influential and celebrated figures of twentieth century gay culture: Touko Laaksonen, a decorated officer, returns home after a harrowing and heroic experience serving his country in World War II, but life in Finland during peacetime proves equally distressing. He finds postwar Helsinki rampant with homophobic persecution, and men around him even being pressured to marry women and have children. Touko finds refuge in his liberating art, specialising in homoerotic drawings of muscular men, free of inhabitations. His work – made famous by his signature 'Tom of Finland' – became the emblem of a generation of men and fanned the flames of a gay revolution.
Movie Screenings:
Tom of Finland (2017), directed by Dome Karukoski
from 2020/09/18~2020/09/24
(8F, Shibuya PARCO)
https://www.cinequinto.com/white/
From 2020/09/25~2020/10/08