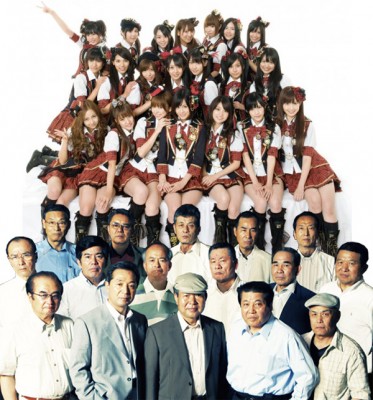 From the sugary sweet yet sexy AKB48 to… retired cops?! Yasushi Akimoto, the producer and director famous for pandering to the desires of millions of 40s and 50s-ish salarymen in a socially-acceptable way with the infamous Akiba-kei idol group, has set an October date for the debut of his next project: OJS48.
News of OJS48, whose letters stand for "OJi-San," hit the Japanese media Tuesday. A bit of a misnomer, the group is formed by only 16 members but includes retired cops and detectives from across the country who call various departments of the police force their alma mater, from a force kendo instructor to a cop who worked the organized crime beat. Their debut single, "Shinkokyu" features main vocals by 63-year-old ex-Osaka detective Mitsuo Nakatani, who now works as a security guard in a shopping center and for the past year has been basking in the spotlight of an Akimoto-produced solo single. Interested parties can get a sneak peak of the signature OSJ48 tune on their Web site as well as catch a glimpse of the NPA "old boys" that have replaced days of shogi in the park with dreams of stardom. Those eager for a further listen can not only download the track early on iTunes, but also let everyone within an earshot know of their new "boom" with a "Shinkokyu" ringtone.
Unsurprising in a country full of endless entertainment tie-ups, the group is actually part of Akimoto's new business venture of the same name as the single. The "Shinkokyu Club" is a community site started by the entrepreneur and pitched as a portal to help those in their Golden Years to make the most of their leisure time. "Why not stop now and then and take a deep breath?" the site proposes. After a glimpse up the frilly skirts of the AKB ladies, some Shinkokyu Club members might need to pause and take quite a few deep breaths.
It's often joked that those gearing up to retire within the next ten or fifteen years are arguably the target audience for sultry teeny boppers AKB48, the similar NMB48, and actually-of-age SDN48. While a grey-haired troupe of senior discount card holders seems like a sudden and unusual jump, Akimoto could be hoping to spread his assets by mining a similar audience from a different angle. The producer's first effort at a male idol group, OJS48 is obviously of a generation or two older than Japan's other well-known artists within the Johnny's empire. But despite the rising elderly population in the country, until now Japan has yet to give birth to much new entertainment oriented towards the demographic.
Will old folk shell out part of their pension to listen to retired police officers croon about the bitter-sweetness of life? Or will the sounds of these weathered veterans catch on amongst a younger crowd, in a sort of pop-enka revival that would ironically make OJS48 irresistible to the ABK48 crowd? Tie-ups, crossovers, graduation ceremonies, World Cup theme songs, products at 7-11–it will be interesting to see of OJS48 will be able to rock the idol formula used by the younger generation and put more money into Akimoto's pockets.