by Anna Wildman
Eating vegan (a diet containing no animal products whatsoever) in Japan can be frustrating, given that most Japanese don't seem to have even have the word "vegetarian," let alone "vegan," in their vocabulary. Even in Tokyo, one of the world's most cosmopolitan cities, dashi (bonito fish flake stock/seasoning) seems to be in almost everything– from miso soup to potato chips. The "Impossible Burger" hasn't quite made it to Japan.

Oftentimes, even the menus at veggie-forward restaurants (often with names that include the words "farmer" or "yasai," meaning vegetable) are mostly meat-centric dishes with some organic veggies on the side. 
While culturally, eating vegan hasn't hit the mainstream in Japan quite yet due to various reasons,  the vegan restaurants that do exist here are high quality and often very cozy and inviting. 

Below are four 100% vegan restaurants in or near Tokyo that I encourage you to try, or would encourage anyone to try. They are all quite different in terms of location and type of food, but the one thing that they all have in common is value — and the safety of knowing you are eating in a place that knows what it means to be vegan.

Saido
Located in Jiyugaoka, one of my favorite neighborhoods, is known for its trendy vibes and romantic streets, Saido (meaning vegetable street) is truly a hidden gem. After walking through a lush garden, expect to be greeted by a very cheerful and friendly Japanese woman. She will explain the menu to you in detail, giving suggestions (osusume) along the way. At lunch time, for about 2,000 yen you will receive a three-course meal that comes with soup, a gastronomic wonder of a salad that emits smoke when opened, and then the main course. Choose from one of the many noodle dishes (e.g. yakisoba, abura soba, ramen, tsukemen), unagi-don, katsu-don, or curry.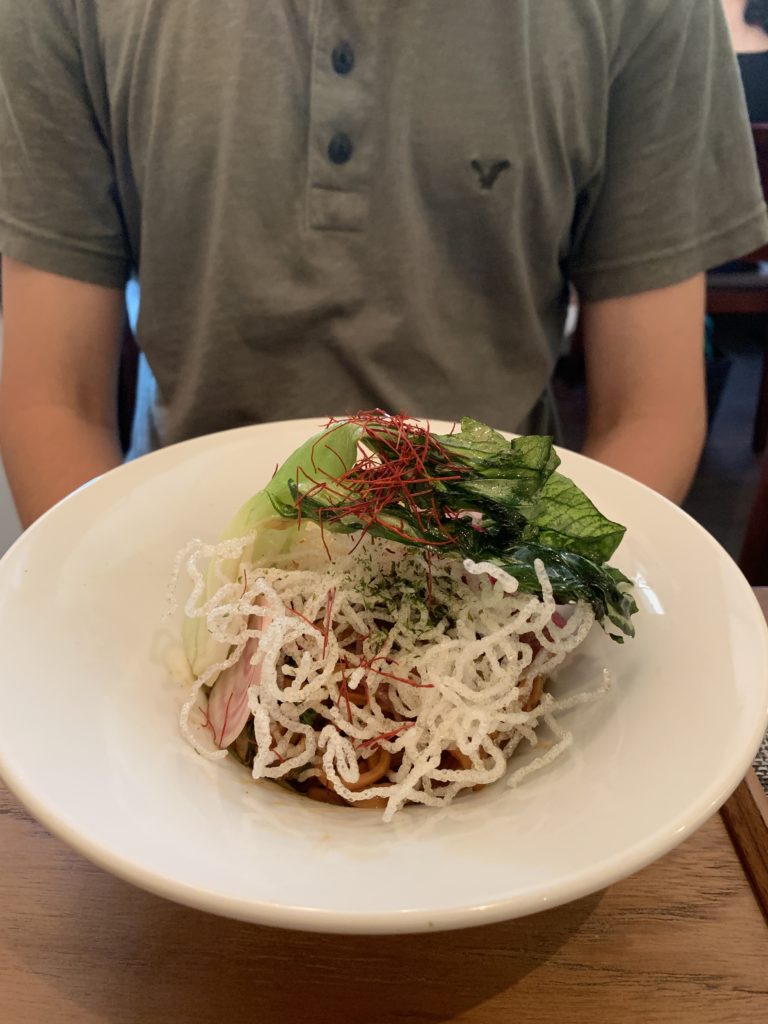 2 Chome-15-10 Jiyugaoka, Meguro City, Tokyo 152-0035
Closest Station: Jiyugaoka

Olu Olu Cafe
A somewhat cluttered, homey Hawaii-inspired 100% vegan restaurant in the Sangenjaya neighborhood near Shibuya. Their menu is quite varied, with choices from hot fried (soy-based) chicken to ramen.
The jambalaya there is one to write home about– or write an article about. Flavorful, subtly spicy, quality mock meat, and not too oily.  All main course meals are from 900-1,200 yen, and portions are fairly large.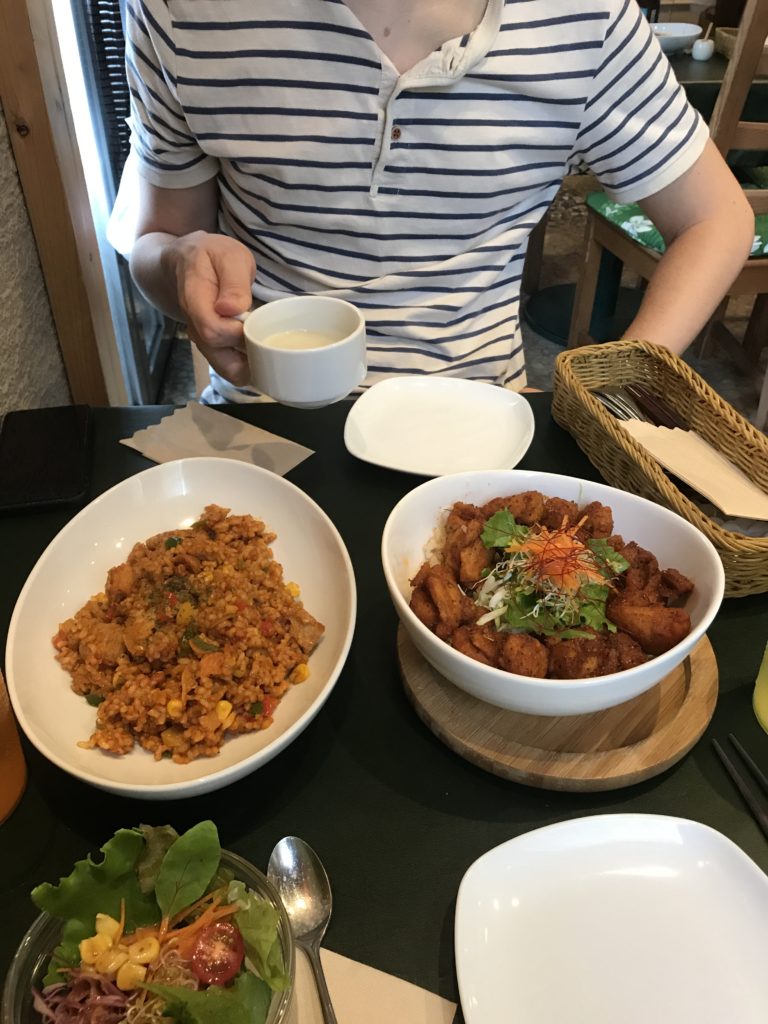 Once you're done eating, head outside and walk around the area. There are plenty of parks, coffee shops, and clothing stores to be explored.
https://oluolucafe.amebaownd.com/
1 Chome-11-1 Ikejiri, Setagaya City, Tokyo 154-0001
Closest Station: Sangenjaya

Kousaiken Gu
Since this restaurant is actually in Kamakura, it's technically outside of Tokyo. Get on a train and go to the beach when you're done. Even if you don't go to the beach, it's worth the trip thanks to its charm and quality.
It is almost hidden, located just up the street from the crowded beaches of Kamakura in a very quiet and residential neighborhood.
The restaurant has a mix of Japanese and Indian food with very limited seating– one inside and two outside seating area (with covering). The family who owns it originally operated the restaurant out of Nerima-ku in Tokyo, but moved it to Kamakura in 2017 where they have been running it ever since. They are very friendly and love to chat in English, so it's a great place for tourists looking to take a break from kanji-riddled menus and staff with limited English abilities.
For 2,000 JPY, one can get soup, a large vegetable plate, curry, rice + puri, dessert, and tea. I was blown away by the value. My favorite was the vegetable plate, which came with about 10 different types of vegetables, all cooked in different ways.

https://tabelog.com/kanagawa/A1404/A140402/14063693/
3 Chome-1-7 Zaimokuza, Kamakura, Kanagawa 248-0013
Closest Station: Wadazuka
Nagi Shokudo
Conveniently located in Shibuya, it's a tiny place with only two staff members including the chef.
This is meant to be a traditional Japanese restaurant vegan-ized. They serve up karaage, seasonal veggie dishes, curry, miso soup, and more. If going for dinner, I recommend the couple deli plate for two. It includes a sampling of all of their different dishes for just 4,200 yen.
https://tabelog.com/en/tokyo/A1303/A130301/13048497/
15-10 Uguisudanicho, Shibuya City, Tokyo 150-0032
Closest Station: Shibuya

Some online resources to find vegan food:
https://www.happycow.net/asia/japan/