If you are unlucky enough to be indicted for a crime in Japan, you'll find that the system actually works on the presumption that you are guilty until proven guilty. The conviction rate is 99%.  If Franz Kafka was alive today, he'd find that Japan's courts provided ample material for his pessimistic work. The recently released film The Trial (審判)based on Kafka's famous work, and directed by John Williams, thus seems tremendously disturbing.
John Williams is that rare western filmmaker who has chosen to live and work in Tokyo, though he originally came to Japan in 1988 with the intention of saving enough money to go to film school in the US. "I've wanted to be a filmmaker since the age of 14," he said, in the offices above the Eurospace Theater in Shibuya, where his latest work The Trial (Shinpan) is showing. It's not everyone who keeps a promise made in their teens, but John Williams did just that, albeit in a place very far from his native England.
John Williams is from South Wales  and back in the mid 1980s when he graduated from university, the British film industry wasn't what you'd call thriving, in fact it was rather gomping. "Actually it was at a very low ebb," laughed Williams. "Of course in the 90s, works like 'Trainspotting' changed the landscape but we couldn't see that coming just yet. There were practically no film schools for young students and the average age at the National Film School – the only institution for aspiring filmmakers, was 27." So John Williams decided, like many others before and after him, to study movie-making in the US, specifically at NYU film school. To that end, he needed to get some cash together and Japan seemed like the place to earn it.
Fast forward 30 years and with the completion of "The Trial," Williams has 5 films under his belt. He also teaches film production/European films at Sophia University's Foreign Languages Department. But he never did get to NYU since, just like in the Lennon song, life is what happens to you while you're busy making other plans. By the time Williams got the funds together for New York, he was deep in the throes of life in Japan and travels in Asia. "I was in India when the acceptance letter came and didn't even see it till I got back. And, well, going to the US seemed to me like a conventional, boring choice. Staying here seemed much more interesting."
Listening to Williams say that in the Eurospace office, the moment felt like a movie scene all by itself. Eurospace is an iconic Shibuya theater, famed for showcasing indie gems from around the world. There was Wayne Wang's "Smoke." Francois Ozon's "Criminal Lovers." More recently, it put on "Frances Ha" when few Japanese were even aware of the now Academy award contender Greta Gerwig. And now Williams' "The Trial" is being shown as a limited release, it will currently be running as the late show every night until the 20th. Given the story (based on the Kafka novel) and weird but intriguing vibe, "The Trial" and the Eurospace venue seem to be made for each other. (Please check with Eurospace website for movie times as they may change).
Eurospace – situated in Maruyamacho, and sandwiched between two love hotels. In fact, every square meter of land in the area is occupied by love hotels. Couples sheepishly stroll around, checking on room prices and curiously eyeing the movie theater. "The Trial" – a film about a young Japanese salariman suddenly condemned for an unnamed crime, and who has a weakness for women and sex.
Otherwise the movie is an invitation to match and compare. Williams does a superb job of superimposing Kafka's most famous character Josef K., a 30-year old German banker in 1914, onto the life of Yosuke Kimura, a 30-year old banker in present day Tokyo. "It's present day, but I deliberately made the time frame abstract, almost non-technological," said Williams. Indeed, Kimura's hand isn't welded to his smartphone the way everyone's is these days, and he almost never looks at a computer screen. Kimura's main interest seems to be women, as he tries to hook up with every female who crosses his path. His success rate is dismal however, and there's clearly no emotion or chemistry involved. "I thought about Japanese women a lot when making this movie," said Williams. "They're trapped in a society controlled by men. They get so much encouragement to please men and become good wives and mothers, and practically no support when it comes to voicing their opinions or carving out careers."
Aptly, "The Trial" is wintry and bleak, steeped in various shades of black and gray. Kimura (played with studied excellence by Tsutomu Niwa) even lives in a monotone apartment, devoid of color, clutter or any human warmth. On the morning of his 30th birthday, Kimura wakes up to find two strange men in his bedroom, and they inform him that his "case" is coming up for trial. Kimura has no idea what they're talking about but in a few days, he receives an envelope summoning him to court the following Sunday. It doesn't say what time or where exactly and when Kimura finally arrives, the Judge (Ichiro Murata) informs him that he is one hour and 26 minutes late. Kimura is incensed by this, and tries to argue that he cannot be late for an event that doesn't specify the time. While this is going on, a woman (Shizuko Kawakami) has loud sex with a man in a dark suit in a back room. When Kimura returns to court the next day, the woman crudely seduces him and Kimura is ready to fall for it, until they're interrupted by the janitor (Ichi Omiya) who tells Kimura that the woman is his wife. Later, Kimura encounters a group of people who are all awaiting trial, and no one seems to have any answers, either to the nature of their crimes or the system that seems convinced of their guilt. Yes, I know – surreal, right?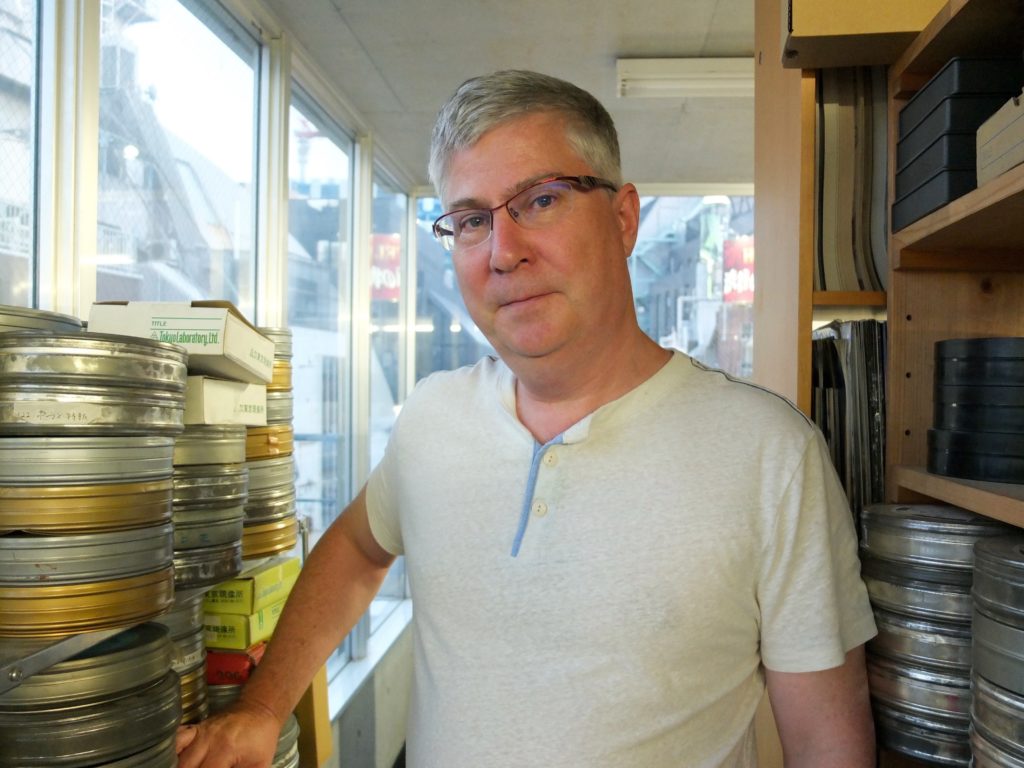 On another level, "The Trial" shows up the very Kafka-esqueness of Japan's judicial system – the long, grueling process of scrutiny between arrest and indictment, and how, once indictment kicks in, it's impossible to overturn it*. "For me, it was less about Japan's judicial system than it was about dealing with the bureaucrats in Tokyo," said Williams. "And what I'm seeing in Japan right now – the secrecy law, changes in the constitution, the rise of the nationalistic, quasi religious groups – I find all that very creepy. But at the same time, life goes on here. The Japanese don't seem to paying much attention to this shadow creeping across the country. The metaphorical message of 'The Trial' works really well for what we're seeing in Japan at this point."
And how. Watching Kimura's expression shift from incredulity and contempt to finally – defeated resignation, a kind of dread washes over me like a wave in a polluted ocean. The whole thing is maybe a little too close to home.
*Editor's note: One of the dark secrets of Japan's criminal justice system is that the prosecution in Japan will punt (fail to prosecute) any case that is not a slam-dunk for fear of losing. Sexual assault cases have a particularly low prosecution rate and politicians or high-ranking bureaucrats are often allowed to walk free–including the 39 bureaucrats involved in forging, deleting and altering documents in a dubious land deal involving a right-wing school and the Prime Minister of Japan. The prosecutor who dropped the cases was recently promoted.