So you've just arrived in Japan and you're experiencing culture shock. Will you ever acclimate? If you want to understand Japanese life, try playing "The Game of Life." It's not the US version and if you really want to understand the game, play the SUPER PAINFUL GAME OF LIFE edition. It's as close to as you may come to living in Japan's dystopian society without being Japanese.
THE GAME OF LIFE known popularly here as "人生ゲーム" (jinsei game) was first released in 1968 amidst Japan's period of rapid economic growth and has released 55 versions since, always staying relevant by reflecting the trends of the times. The basic scenario of the game has not changed which is to get a job, get married, have a family, buy a house and all the while aiming at becoming a millionaire. The winner is determined by the amount of money each player has at the end of the game, just like in real life (maybe?).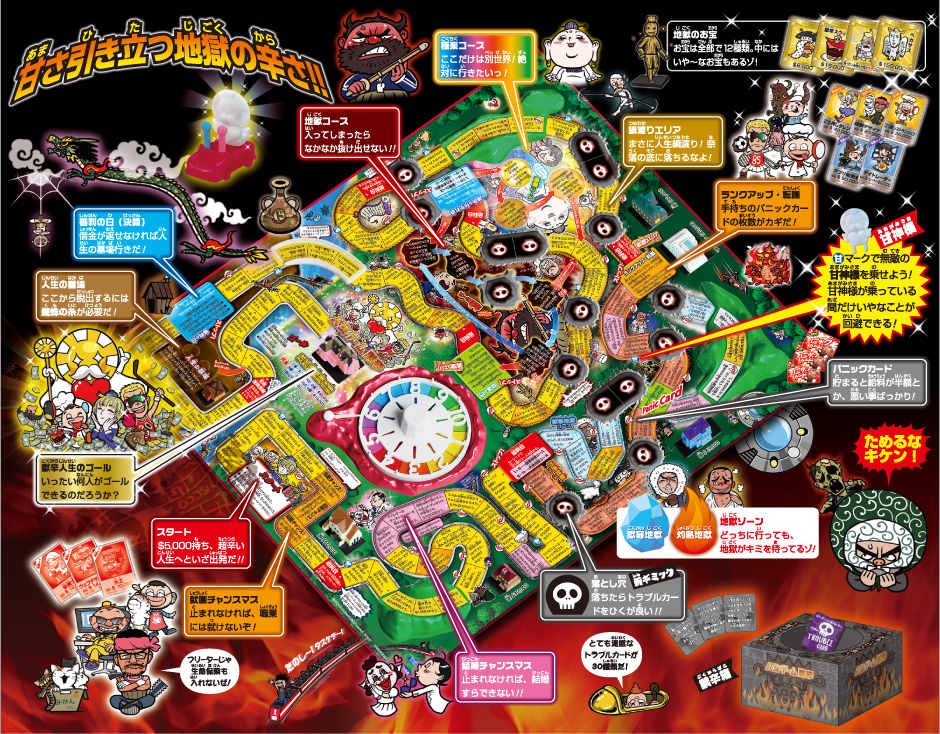 The "SUPER PAINFUL GAME OF LIFE (人生ゲーム極辛) was released in September 2014 again, reflecting the times in Japanese society where nothing seems to go right. Taxes are raised, evil corporations are everywhere, blogs are trolled and taking into consideration the lowest marriage rates in Japan, the game also has the record lowest marriage rates for the players. Many of the blocks are full of stressful events that hit hard on the wallet, and the board is peppered with "panic cards" where you only get half of your salary and also pitfalls where you must draw a "trouble card" which as you can imagine in one way or other blindsides you, forcing you to pay painful amounts as a result.
Here are some of the life troubles, you, the adventurous player will encounter:
-Busted for copy and pasting a letter of apology
-the new hire at your temp job quit in a nano second
-your parents read your secret poem
-you were walking with your head held high (上を向いて歩こう) to keep your tears at bay and you fell into the gutter
-you get hiring offers from all the infamous black companies (like 711, DENTSU)
-you get hired as a love letter ghost writer
-so lonely…coming home past midnight to dinner alone
-your SNS accounts get hacked and your blog is under fire from trolls
-you end up working for a dark corporation or "ブラック企業" (burakku kigyo)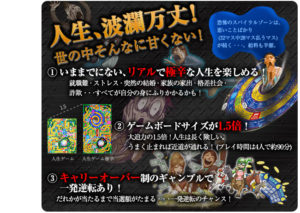 The omnipresence of "the dark corporation" is an essential part of the new game of life in modern Japan. As with The Game of Life, SUPER PAINFUL GAME OF LIFE" portrays the realities of modern day Japan. Hence, the references to Japan's exploitive and inhumane corporate behemoths and the notion of job insecurity and childlessness, all hits a little too close to home. For instance, dark corporations have become the symbol of all that is wrong in Japan today and in 2013, a year before the release of the SUPER PAINFUL GAME OF LIFE sure enough it was among the top trending words of the year. So what are dark corporations? They are defined as companies that "typically hire young employees and then force them to work large amounts of overtime without extra pay. While specifics may vary from company to company, conditions are generally poor and workers are subject to verbal abuse, sexual harassment and bullying" according to Haruki Konno head of Posse a group that helps young people with working environment problems. In a word, it's a buffet of horrors with every kind of HR nightmare: sexual harassment? Pawahara(power harassment from your superiors)? Karoshi(death by overwork) for unpaid overtime? Take your pick!  One would hope that this was a punishment that only existed in board games but no, as the giggles subside it dawns on you that this is the reality of life in Japan.
The even darker reality is perhaps that even a job at a dark enterprise is better than no job at all in Japan these days. The game imitates life in the sense that if you do not land on a block that allows you to get a job, you will proceed as a "Fureetar"(a neo-English coined word for unemployed people) deprived of  the good salary and benefits your peers enjoy. Such is life in Japan, if you do not manage to obtain a job straight out of college, that is, if you had the advantage of going to college to begin with, you may as well consider your career over. Even more so nowadays that the number of regular employees is roughly 60 percent, a significant decline from the 85 percent in 1985. The easing of labor dispatch laws has caused this shift in job security and people are willing to put up with compromising conditions which is a breeding ground for the dark companies to flourish and a cause of the ever-growing working poor.
If you're going to live in Japan, you might as well learn what's up ahead, and learn to enjoy it. This game will certainly help. Good luck!
http://www.takaratomy.co.jp/products/jinsei/product/gokukara/