This is an op-ed news bulletin. It does not necessarily represent the views of everyone at the Japan Subculture Research Center but probably comes close.
February 9th, 2014 (updated on February 12th) 
The man who personifies Japan's gender gap, former health minister Yoichi Masuzoe, 65, with the support of the Liberal Democrat Party, the nuclear energy industry, and the Sokka Gakkai fan club (Komeito),  today reportedly won a four-year term as governor of Tokyo. He beat out his two nearest rivals who had said Japan should phase out nuclear energy. His victory was assured with a voter turn-out rate of roughly 46% , a lapdog media that is in love with advertising money from Tokyo Electric Power Company, and preceded by Tokyo's worst snowfall in over a decade.  (As if it were a sign of things to come…)
Shortly after polling closed at 8pm, the Japanese media, including Prime Minister Shinzo Abe controlled NHK (aka A.B.E News) reported that he had won by a sizeable margin, based on exit polls, wishful thinking, and haste to go home early.
"Women are not normal when they are on their period. They are abnormal.
You can't possibly let them make critical decisions about the country [during their periods], such as
whether or not to go to war." – Masuzoe in the October 1989 issue of the magazine BIGMAN
With this victory,  Mr Masuzoe will be Tokyo's "face" for the next four years–even if that face resembles that of a horse with mange. Because of his rabid support of nuclear power as an energy source, Mr Masuzoe's election is expected to spur  the Liberal Democrat Party's efforts to restart the country's idled nuclear reactors. It will also be a boon for politically connected construction firms wishing to get a big share of the unneeded 2020 Olympics construction and plans to demolish interesting parts of the city in order to create a money draining infrastructure that will temporarily benefit cronies of Abe and the Liberal Democrat Party.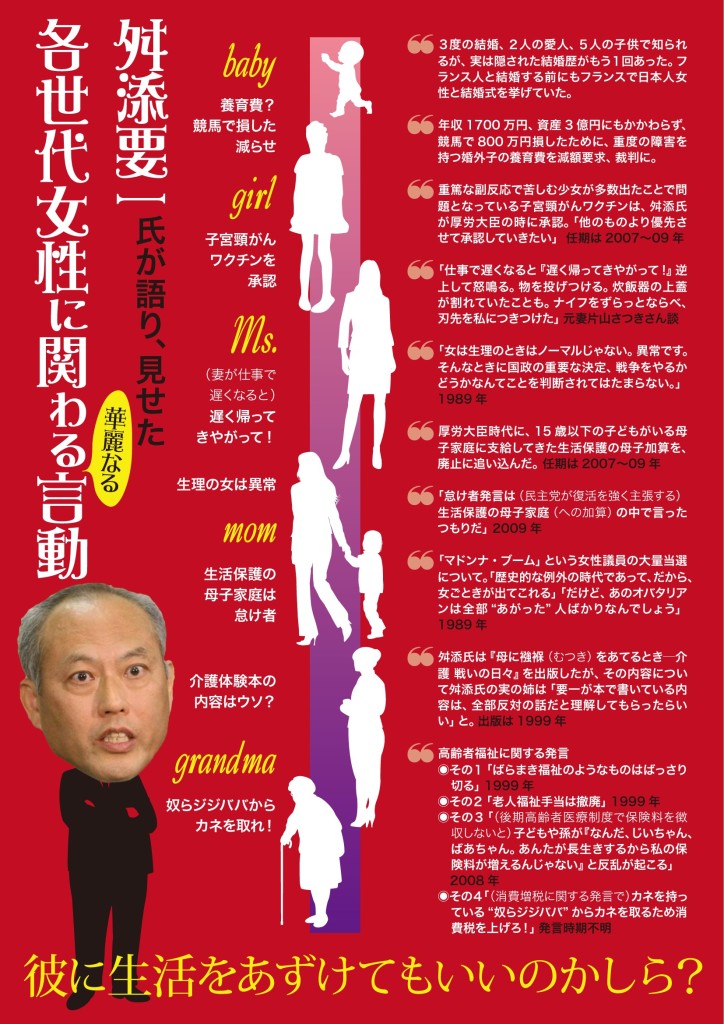 Yoichi-kun is beloved by Japan's feminists for his colorful remarks about women and power. In fact, allegations of his domestic violence, abuse of power and his past history of colorful sexist statements earned him his own unique twitter account: 舛添に投票する男とセックスしない女達の会 @Nomasuzoe–which in English would be, "The Association Of Women Who Won't Have Sex With Men Who Vote For Masuzoe".
In 1989 during Japan's  so-called "Madonna Boom" when a surprising number of women became elected officials, Masuzoe stated, "This is an exceptional period in history,  that's why even these women things are showing up…but those who have been elected are all a bunch of old middle aged hags." Well, lucky for us Japan has come a  long way since those crazy "women-in-politics" days. Once again, Japan has shown us that with enough voter apathy, a compliant media, and the connections and funding of the nuclear industry, that any middle-aged asshole guy can be the leader of one of Japan's largest city-states.
How bad a leader will he be? No one can for sure but one thing is certain: there are possibly 3,067 supporters of Masuzoe who are not going to get laid tonight. One can hope. (Because if there's anyone in Japan who we'd like to see not procreating, it's the idiots that would vote for this charlatan in the first place.)