The Kiyomasa Well (清正井), located in the Meij Jingu (明治神宮) Inner Garden is believed to be one of Tokyo premier power spots. No one is sure when the rumors began but around 2010, Japanese celebrities began whispering that if you took a photo of the well and used it as your cell-phone mainscreen that your good luck would bubble over, like the pure water that continues to bubble from the Kiyomasa well for many decades. We know that not everyone can make it to "the pond of power" so we decided to go for you guys. We're so glad we did.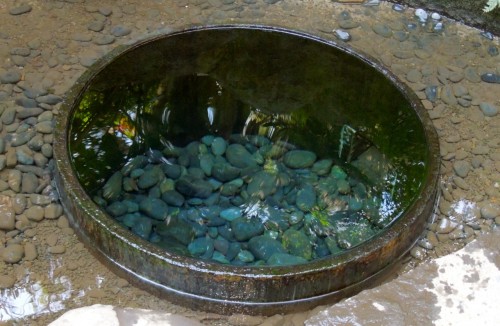 It's easy to miss the magic well of Kiyomasa, since the Meiji Jingu Inner Garden is a little off the beaten path to the main shrine. According to Meiji Shrine, the garden first belonged to Lord  Kiyomasa Kato and later Lord Li during the Edo Period. (When was the Edo period? Look it up. :D) In the reign of Emperor Meiji, who was quite the radical reformer in his day, it was passed over to the Imperial Estate.
The well is fountain head of Nan-Chi (South pond) and the pure water bubbles out in a steady flow all year round. Apparently, it was a lucky strike when Lord Kato started to dig a basement. The well is famous for its simplistic design and the excellence of the well-water. Unfortunately, since the triple-meltdown in March, the shrine now asks people to refrain from drinking the water. However, photos are still okay!  You can even dip your hands into the relatively warm water. Swimming: not allowed. Enjoy the luck while it lasts!