It's summer time. Time for a haircut and time for Ya-Man to launch it's summer defoliation campaign, No-No-Hair,  because lords knows there is nothing more unsightly than a man or woman with body hair. Or maybe everyone is  considered sexier if they look prepubescent in parts of Japan. "The No-No Hair" hair removal device has sold over 2,500,000 units since we first wrote about it in 2010. "It doesn't pluck, it's doesn't shave, yet it removes your unsightly hair!" What more could anyone ask for?
The popularity of the device and its wonderfully obnoxious sales campaign does make a man consider some hard questions. How much body hair is enough?  How much is not enough? Why is it good to have plenty on your head but not on your legs? Why do American adult films have a prevalence of women with completely shaven pudenda? Why do Japanese women tend not to shave their pubic hairs?
What started me on this chain of serious pontification, two years ago was a tweet from one of my favorite journalists covering Japan, Hiroko Tabuchi. (@hirokotabuchi if you want some good japan related tweets to read).  The tweet in question: Unshaven Women: Free Spirits or Unkempt?http://nyti.ms/9tbMPW "Is the fear that no man will want you and your hairy legs valid?" The article in the NYT itself was fairly interesting. Personally, I've always thought armpit hair on a woman, French or non-French, was kind of sexy.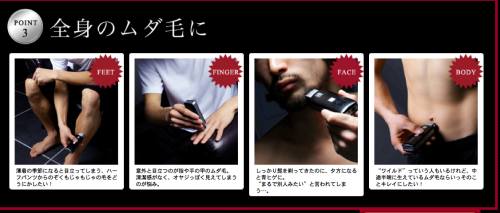 In Japan, a certain degree of hairiness used to be considered sexy, in both men and women.  Body shaving wasn't the big deal it is now as Western influences permeate Japan. Men, now, are also expected to be hairless. This seems odd to me.  It's as if Japanese men have agreed to neuter themselves.  And of course, there are products to help rid them of any trace of icky manliness, such as the No! No! for Men neo-laser razor. Perfect for getting rid of those stray stomach hairs, or any hint of a five-o-clock shadow.
Three years ago, on a very long sleepless night, I had a strange dream about badger-dogs (tanuki) which I turned into a long short story. It's my pontifications on hair, culture, and Japan from the viewpoint of a literate bake-tanuki, or were-badger dog. Obviously, it was inspired by the Miyazki Hayao film about Tanuki, several years ago, which I watched on the night I had the dream.  Whatever.
Anyway, for your enjoyment, I'm posting it here. It's crude, rude, and probably inappropriate but then again anyway you talk about it, "pubic hair" is quite a mouthful.  For your reading pleasure: Letters From An Angry Werebadgerdog.