Late July marks the official start of O-bon, the Festival of the Dead, where Japanese people visit the graves of their ancestors and/or pay their respects to the recently departed. For Tokyoites, August is the time of celebration.
It's also a semi-official vacation for many, and the trains out of Tokyo fill-up with families going back home to visit the living and the dead.
Some Japanese families who can't afford to travel put offerings on the family Buddhist altar and welcome their departed in-laws into the home for a few days before wishing them farewell. (In some cases, when the visiting ghosts won't leave, they have to call in a Buddhist exorcist to kick them out. Maybe.)At JSRC, we thought you'd like to know a little bit more about this festive occasion and why it's celebrated. *Editor's note: The 90% well-researched version was revised to be 99% accurate and less snarky. All snarky and historically inaccurate parts are followed by a ★ for clarity.  While ☆ represents a gross simplification.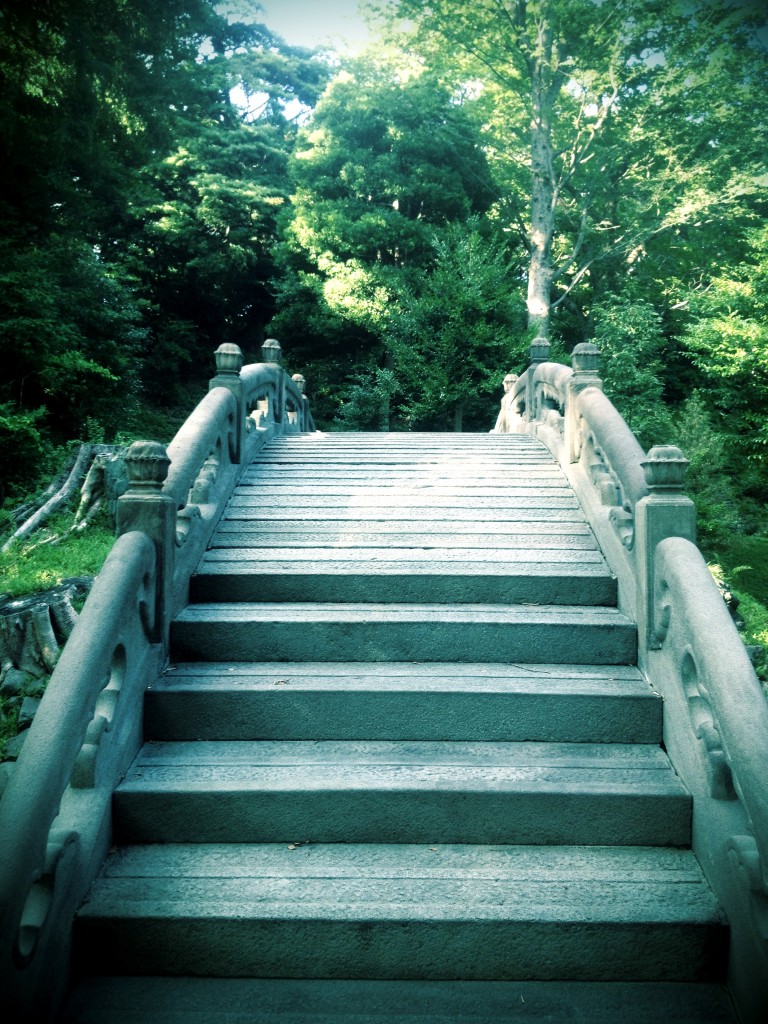 The history of the holiday which came to be known an O-bon/お盆–pronounced like Oh! Bone!–is very long and the stories as to how it came to be celebrated in Japan are as ethereal and mysterious as your average ghost.
The old lunar calendar that was used up until the Edo period actually had the holiday on July 15th but the modern calendar places it on August 15th. This means that now it also coincidentally comes on the same day that Japan surrendered to the United States and World War II ended.
O-bon was originally a Buddhist holiday that dates back as least as far as the year 606 in Japan, where it was written up in Nihon Shoki (日本書紀) one of Japan's earliest historical records. At that time it was called 盂蘭盆会 (urabonkai). It was believed that on this day if you made offerings to the local Buddhist monks, that the spirits of your parents and other ancestors would be saved from spending time in the lower realms of existence and be sent on to a better incarnation.
In time, over centuries, with the free-market liberalization of the metaphysical world, the Buddhist monks got cut out of the distribution system and now the offerings are made directly to the spirits. ☆
The "bon" in O-bon  (盆) itself refers to the vessels (plates, bowls, tupperware etc)  in which offerings are placed upon for the spirits of the deceased. The physical bowl has come to refer to the holiday or the period where the holiday is celebrated in modern lingo. Of course, O-bon as a holiday could be translated as "honorable container day" but then it wouldn't sound as cool as "Japanese Festival Of The Dead." The practice of offering food and drinks (such as Pepsi-Watermelon Cola and Wasabi Potato Chips etc) to the visiting spirits is believed to have spread from the original ceremony in Japan's hip 600s.
 The O-Bon Sutra: If it's in an ancient book it must be true.
            There is even a Buddhist holy book about O-bon, called the 盂蘭盆経 (Urabonkyo) which establishes the basic ideas of the holiday. In this tale, a disciple of Buddha, named 目連 (Mokuren) finds out that his deceased mother is trapped in the realm of hungry ghosts (餓鬼) and tries to find a way to relieve her suffering. *Buddhism postulates six realms of existence. Hungry ghosts aka gaki (餓鬼) are spirits with huge stomachs and small throats that can never get enough to eat and are perpetually famished.  Look for my book on the United States of America and its obesity problem, Hungry Ghost Nation, in 2015.★
Mokuren, the Buddhist monk, is bummed that his Mom is a sort of demon. He makes votive offerings of food and water to his Mom, but right before she can wolf them down, they all burst into flames, making that a no-go. He decides to save Mom.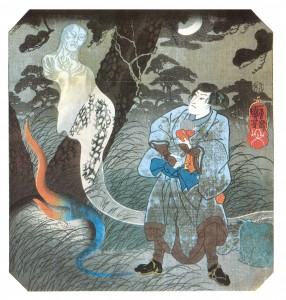 Our hero, Mokuren, who we'll call Mork, just to make it easier to remember,  has a talk with the Buddha about this problem. The Buddha, who being all-wise and everything, says to him, "Well, Mork, your Mom was really a total thug and it's not going to be easy to spring her from her realm of suffering. However, if you wait until the last day of our post-rainy season vacation, which is July 15th, and make offerings to all of your Buddhist monk pals and supporters—making sure everyone gets fed, maybe your Mom can eat some of the leftovers or get lucky?"
And so he does just that, the monks and lay-supporters have a huge party: drinking, dancing (the original o-bon odori), eating, and having lots of fun. The Buddha says to them, while the party goes on, "Guys, let's take a moment and pray for the well-being of our beneficiary who put on such an awesome party, and for his ancestors as well—up to seven or so generations. Let's calm our hearts and meditate and do a thanksgiving sort of thing."
            "仏陀は、十方の比丘に対し、このように言った。「比丘達よ、七月十五日に供養を受ける時、
施主の家の為に祈り、七世の祖先の為に祈り、
坐禅をして心を静めて、然る後に、頂きなさい。」「比丘達よ、初めて御飯の供養を受ける時、
施主の家の為に祈り、七世の祖先の為に祈り、
霊前で祈願をしてから、然る後に、頂きなさい。」それを聞いた、比丘達は、法悦に包まれて、
モッガラーナの涙も、完全に止ったのである。
そして、母親も、一劫続く餓鬼道から救われた"
And lo and behold, the monks are wrapped in holy bliss and Mork's Mom (Mokuren's Mom), was freed from the realm of hungry ghosts. The Buddha then promises the same service to any monk or lay disciple who will take the Buddhist monks out for a party on July 15th.☆
The authenticity of this Sutra is widely debated but it doesn't seem any less plausible than the Book of the Mormon.
50 Ways To Appease Your Loved Ones
O-bon is celebrated in different times, manners and places in Japan. The most common belief is that the spirits of the dead return around August 11th and leave again around August 15th or 16th, depending on the traffic in the spirit world. (O-bon traffic in our world peaks on the 14th and 15th, as most Japanese families in Tokyo go on vacation during this period as well and it collides with summer vacation for the kiddies.)☆
During this period families come together, greet the spirits of the departed, and then send them off again to the netherworlds. Some areas greet the spirits with a large bonfire (迎え火) and then send them off again with another fire (送り火). The energy crisis in Japan has dimmed plans to replace the bonfires with large LED lamps spelling out "Welcome" or "Good-bye" but in the future, who knows?
Depending upon the household and the area, some families will clean up the Buddhist altar and make their offerings there, placing faux horses made out of egg-plant or cucumbers to provide transportation for the wandering spirits. The smoke from the incense is believed to provide a highway for the ghosts and their cucumber horses to travel on.Tokyo dwelling families originally from Narita City in Chiba Prefecture families make a giant "limousine bus"* out of pumpkins and grapes to make the travel to Tokyo easier for the mass gatherings of ghosts arriving at the airport from the underworld. ★Actually that's not really true. Apparitions can easily take the Narita Express now.☆
In many areas, O-bon odori(お盆踊り), the O-bon dance is performed. The dance dates back to Heian era Japan and was believed to be a ceremony both to welcome the spirits of the dead, memorialize them, entertain them, and appease them. It's not known if the modern-day hostess club has its origins in the O-bon odori.★ The movements of the dance are said by some to mimic the writhing of souls burning in hell—which makes sense if you've survived enough Japanese summers. But it's hard to see how the writhing of tortured souls could be amusing. Mmmm….laughing at the suffering of tortured souls—amazingly O-bon pre-dates Japanese game shows.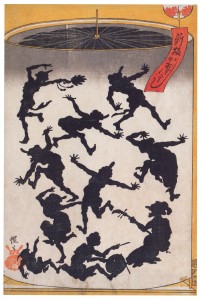 Since the 1600s, many versions of the O-bon Odori incorporate Buddhist chanting which is believed to help the restless spirits go to a better place….Hawaii or heaven or a better incarnation. But not Saitama☆.
Deep O-Bon Thoughts (As Deep As A Plate)
Jokes aside, O-bon is one of the most interesting of Japanese festivals and while August 15th marks the current official date for the holiday, it still begins in July in many places in Japan. If you can use it as an excuse to get out of work, try celebrating it twice in the same year. You can claim to have relatives in Kansai. The actual dates and practices don't mean that much but it's an idea that I like in principle. There is something good about remembering those who have departed from our lives and will not return. It reminds us how lucky we are to still be alive, to eat, to drink and to dance. Even for those of us who can barely dance at all, there is something joyous about this holiday. Dance while you can.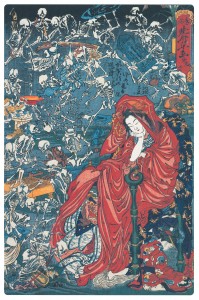 「このお盆に生きている全部の人間は、単に今年度の生き残り分にすぎない」吉川英治 (小説家)
"All of us who are still alive this O-bon, we're simply the survivors of our fiscal year."—Eiji Yoshikawa, Japanese novelist.
originally posted on August 15th, 2012 and updated yearly