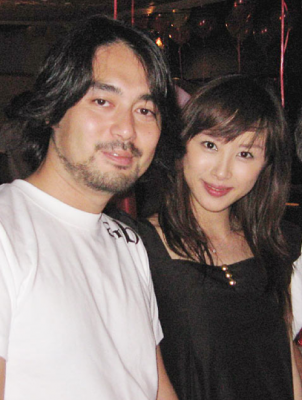 Actress and talento Moe Yamaguchi was "really stunned" when she learned her husband, web entrepreneur Shigeo Ozeki, has been illegally running a posh hostess club without a license.
Ozeki and two other men were arrested May 26 for their suspected connection with "Birth Nishi-Azabu", an exclusive but unlicensed hostess club hidden in a residential neighbourhood in Tokyo's Minato ward. Opened in 2004, the cabaret club entertained an exclusive list of clientele with attractive young women such as models and students from famous universities. The club is said to have welcomed Tokyo politicians and celebrities, and pulled anywhere between 7 million and 8 million yen in profits per month.
Ozeki denies having anything to do with the club, saying he sold the goodwill to an acquaintance (who was also arrested) after opening it in 2004. Authorities are suspicious of monthly deposits from Birth into Ozeki's bank account between 3 and 4 million yen, and believe he may have continued to directly manage the operation.
Police say Yamaguchi was present when they searched the couple's Hiroo home. She released a statement Tuesday evening through her agency apologising for her husband's behavior. "I was just really stunned when I heard the news," she said.
Along with being married to his celebrity wife, Ozeki is known as the founder of the online shopping website EC Navi. The couple were married in 2002. According to Cyzo, Ozeki has often fancied himself a high-rolling businessman and bragged about his lavish lifestyle. In recent times, however, weekly magazines have carried rumors of embezzlements and dismissals from one of his own companies, along with stories of some rather conspicuous womanizing. Cyzo says that although Yamaguchi has been disturbed by the news, she still believes her husband.
Read the Japanese articles here, here and here.