By Sandra Barron for JSRC
originally posted on March 9th, 2011
It was one of those nightmare commutes. A crowded train finally pulled up to a rush-hour platform, dense with people who'd already been delayed, who were already running late, and were spending this purgatorial time pushed up against piles of equally inconvenienced fellow commuters. The doors opened and more people crushed in, but the train didn't move. After a few agonizing minutes, his stoicism no match for the commuters around him, a JSRC writer gave up on riding this train and decided to document it instead. From the platform, he lifted his camera, bracing for glares from the trapped commuters. Indeed, snapping pictures of people in this state would be a good way to get a face full of one-fingered salutes from the poor saps stuck on the train. He got fingers in his shot – but not the ones he expected: Even under such duress, a bunch of strangers saw a camera pointed at them, and they flashed the peace sign.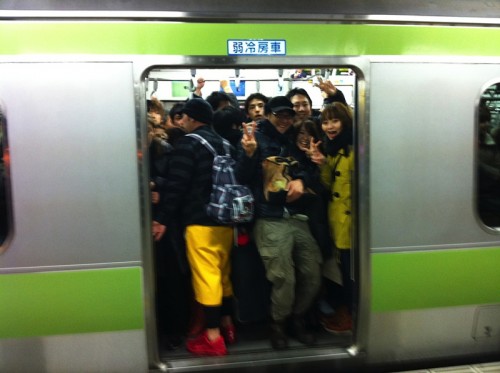 This was an extreme situation, but not totally surprising. The spontaneous V-sign is as natural to many Japanese people as it is puzzling to visitors. Children seem to start do it as soon as they can control their hands – as evidenced by photos of crying toddlers who find the wherewithal through their tears to raise two little fingers. Kids are the most reliable peace-signers. While many (though certainly not all) adults outgrow the practice, get a bunch of school kids together and you're guaranteed at least as many peace signs as there are uniforms.
A version of the Asahi Shimbun printed for kids, the Asahi Shogakusei Shimbun, went straight to the source and asked elementary school students why they did it. Three of the girls said they did it without thinking. "It's like my hand just moves into that position by itself," one fourth grader said. A sixth-grade girl interviewed said, "If I don't do something with my hands, it's like I'm just standing there."
The legions of kids I used to teach, at least the girls, said they made the sign "kawaiku miseru tame"–to look cute. What about the other gestures the V-sign has morphed into and been accompanied by in snapshots – the double peace sign and the L near the mouth and the twisty sort-of-sideways thumbs up? "To look cute." Okay, then. One of the kids' mothers surveyed said "I do it less as I get older." But people certainly don't stop completely. Photos from Japanese girls' nights out give US gangs a run for their money in number of hand signals raised, and, some men agree that it makes them look cuter. Entrepreneur and Japanese pop-culture purveyor Danny Choo wrote on his site, "I especially like it when the cute girls do a horizontal version of the V-sign next to their eye – kawaii [cute]!"
Winston Churchill wasn't trying to look cute when he made the V for military victory during World War II. In occupied Europe, the V was a symbol of defiance against the occupying forces, and it was chalked on walls flashed as the now-famous hand signal as a show of resistance. It was even played by BBC radio in the form of the letter's Morse code version, dot-dot-dot-dash, followed and echoed by the opening notes of Beethoven's Fifth. Two decades later in America, the V-sign became the counter-culture's well-known anti-war gesture.
How the gesture got so big in Japan remains a bit unclear. It has been variously attributed to post-war GIs in Japan, peaceniks Yoko Ono and John Lennon, an American figure skater, a camera commercial, and 1969 Woodstock festival footage. Jun Inoue, the lead singer in the Beatles-esque group The Spiders is said to have added the V-sign spontaneously during the filming of a Konica TV commercial in 1972. He may have been influenced by seeing American or British youth making the gesture on his previous trips abroad.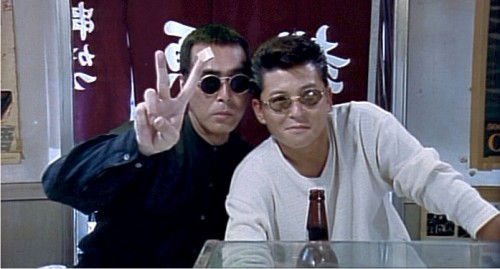 Another theory is that it was American figure skater and anti-war activist Janet Lynn who won over the hearts, minds and fingers of the photographed masses. In the 1972 Sapporo Olympics, she became beloved in Japan both for her artistic performance and for staying upbeat even after she fell on the ice. The theory goes that her frequent showing of the peace sign in subsequent print and TV media coverage in Japan won imitators.
It may not be possible to know which of these was the defining moment that set the template for the innumerable photos that would follow. The most likely answer is that there was no single moment when the official V-sign memo went around Japan. Whichever person or combination of images sparked it, the gesture, now far removed from its original meanings, entered the collective unconscious and there it has stayed. It gives people a way to stand out in photos or to increase group identity by all doing the same thing, suggests anthropologist Masaichi Nomura, quoted in the AsaSho.
It could happen like this. Consider an infant, waving its fingers and accidentally finding the V shape. The parents get excited, grab a camera. One says to the other, "He's making the peace sign!" and they coo and clap and snap away. "Camera plus hand like this equals attention," goes some series of synaptic connections in the infant brain. And thus, perhaps, a new generation of V-signers is born.