On May 5th 2012, Japan's last operating nuclear power plant among a total of 54 nationwide was shut down for a routine maintenance. It was a first time since 1970 that Japan was not using atomic-generated energy. However, despite last year's Fukushima Daiichi nuclear accident, the biggest since Chernobyl, the Japanese government is intending to restart the Oi nuclear power station, in Fukui prefecture.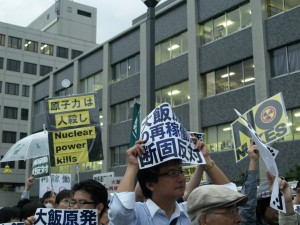 Disagreement sparked among the Democratic Party of Japan (DPJ) over the request made by the administration to restart two reactors of the Oi nuclear power plant, in Fukui prefecture.
Last April, DPJ acting policy chief, Mr. Yoshito Sengoku, including Ministry of Economy, Trade and Industry (METI) Minister Yukio Edano requested the restart of the Oi nuclear power plant and made several visits to the local government of Fukui to explain that "Japan's economic society cannot live without electricity," and compared the state of having no nuclear power to a "collective suicide." Conclusion of discussions between Prime Minister Yoshihiko Noda and cabinet members Edano, Hosono and others stated that the reactivation of the Oi nuclear power plant was "appropriate." Yoshito Sengoku reportedly participated to all these discussion meetings.
Yesterday, as every Friday evenings since April 2012, in front of the Japanese Prime Minister's headquarters in Kokkai-gijido-mae, close to the National Diet buildings, thousands of anti-nuclear power activists gathered together in a long and very ordered queue to protest against the re-start of the Oi nuclear power plant.
The protest started at 6pm and ended around 8pm, according to the organizers. By 7pm they counted 1505 participants, including some people from Fukushima.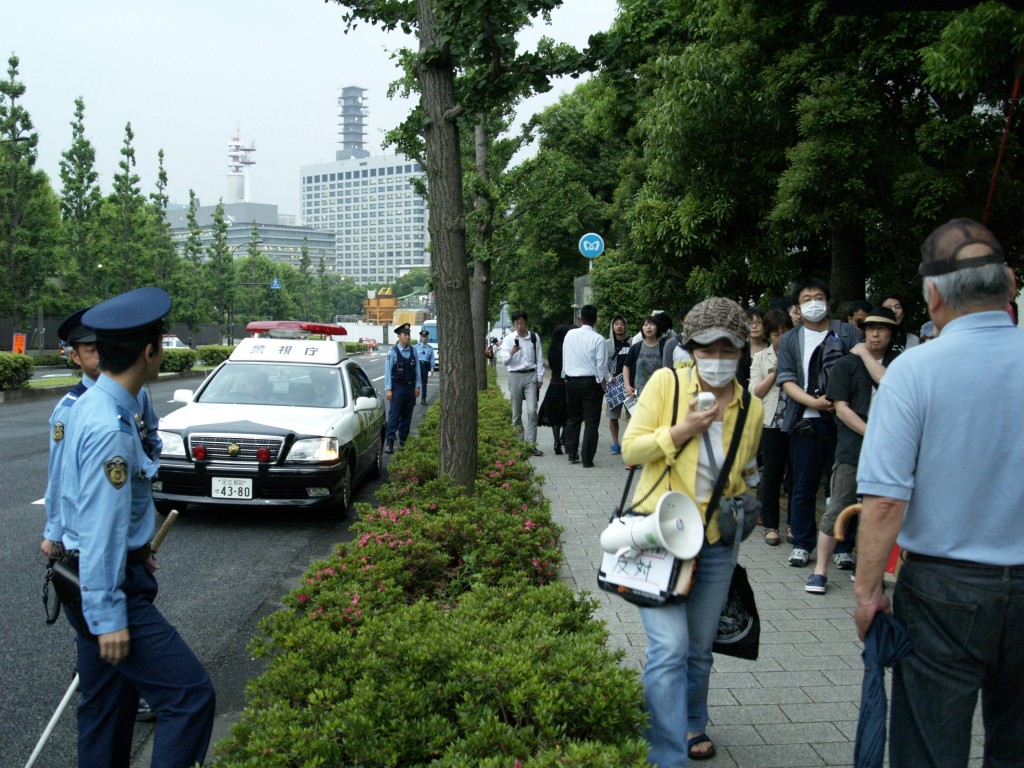 Some protesters who came from Fukushima in the crowd were yelling to ask the people of Tokyo to come and live at least one week at their house in Fukushima, to see how it is to live there on a daily basis. They were also asking the government leaders to stay long term in Fukushima, and "not just few hours and pretend they made an official visit."
Michiko Mori (71) is a former middle school teacher, currently retired: "I came here today to express that I am against the idea of re-running the nuclear power plant of Oi. I want to say, 'look at the present situation of Fukushima', hundreds of thousands are forced to live away from their homeland. Children cannot play outdoors. Is this accident real? No one will take the responsibility of it."
Yuko Shinkai (34) is a temporary staff in a company: "I would like my government to stop considering using any nuclear energy at all. The people of this country are rarely given the chance to have their voice heard. With the Oi nuclear power plant, they are attempting to repeat the past mistakes. I do not wish anyone in the world to experience the same incident in their own country."
Harada-san, the organizer said that the Japanese people will not be tricked this time: "I would like to ask the Japanese media and the people in Kasumigaseki central government not to try and trick the Japanese people again, because they are also part of our community. I would like to ask them not to use the lives of their people to make money."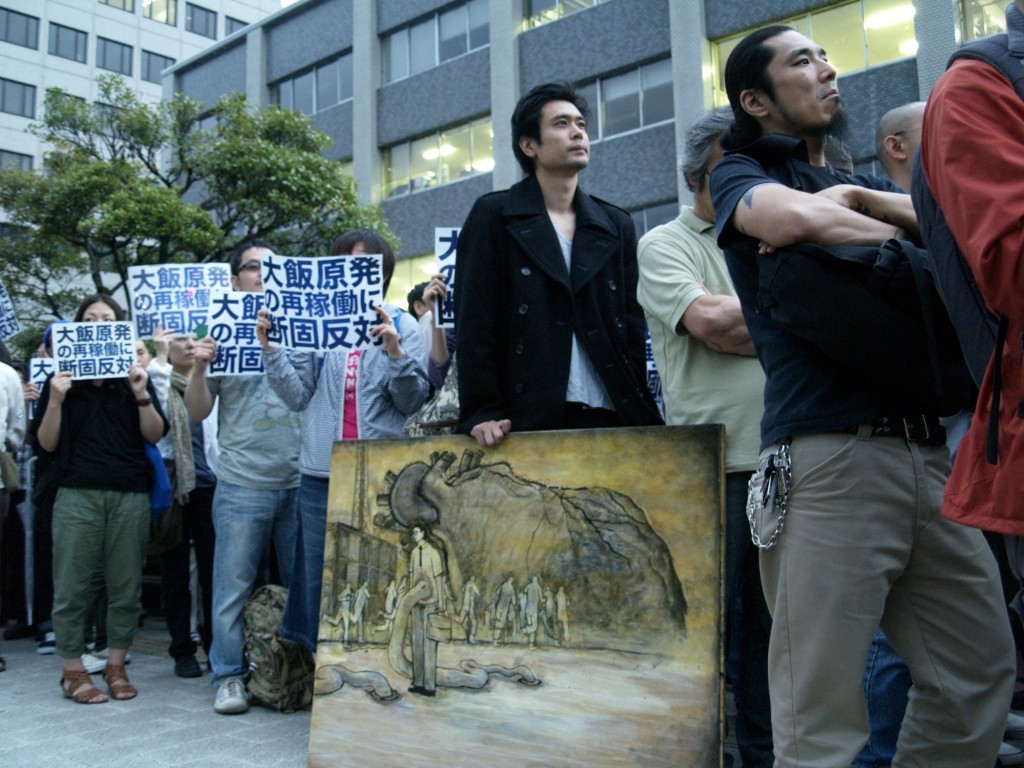 Jan Hataguchi (51) is a fashion designer in Tokyo and she has a 25 year old son: "The government is trying to ignore the voice of the Japanese people. Letting Oi nuclear power plant to function shows that they did not learn from the lessons of Chernobyl and Fukushima. I wish all the nuclear power plants are banned."
Hiroyuki Okada (29) is a graphic designer in Tokyo, but his hometown is Ibaraki, one of the affected areas: "I am very strongly opposed to re-start any nuclear power plant. Hundred sixty thousand people are moved from their homes. How can the government guarantee that during that short period of time, (when they function the nuclear power station) there will be no accident? Who can take the responsibility? No one. No nuclear power station should run, even temporarily."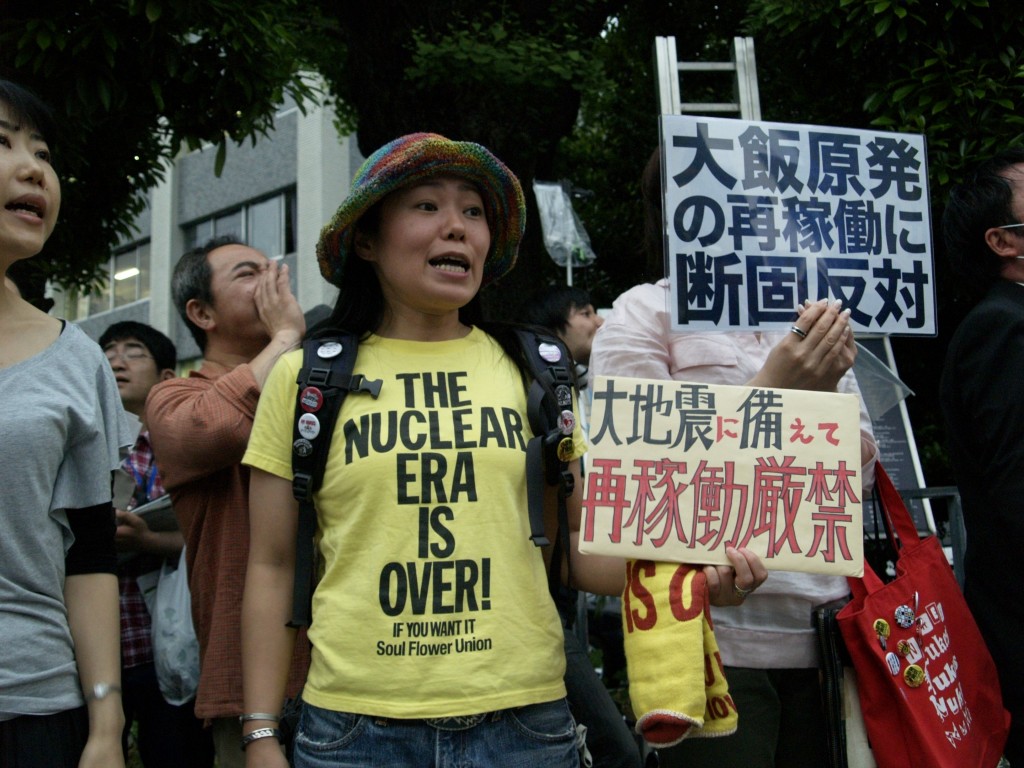 The organizers are a network of anti-nuclear power activists called No Nukes More Hearts, and the metropolitan coalition against nuclear power.  For more information contact Miss Misao Redwolf at info@nonukesmorehearts.org, twitter ID: NONUKES_MH