NOTE: This article has been corrected after a reader pointed out that the Eriko Yamatani corner was written by a Zaitokukai  former executive and associate Shigeo Masuki and not Ms. Yamatani herself.
Recently appointed head of Japan's Public Safety Commission, Eriko Yamatani 山谷えり子, who oversees all of Japan's police forces, may be inappropriate to deal with Japan's domestic violence issues—among other things. She has been in the news recently for her alleged ties to the Zaitokukai, a hate speech group that the UN, the United States, and even Japan's National Police Agency have condemned. Prime Minister Abe has had his photo taken with one of the members as well, but that's probably just a coincidence. Ahem.
Today at JSRC, we came across this newsletter, run by a member of the Zaitokukai (that Ms. Yamatani can't remember meeting), to which she seems to have contributed materials. *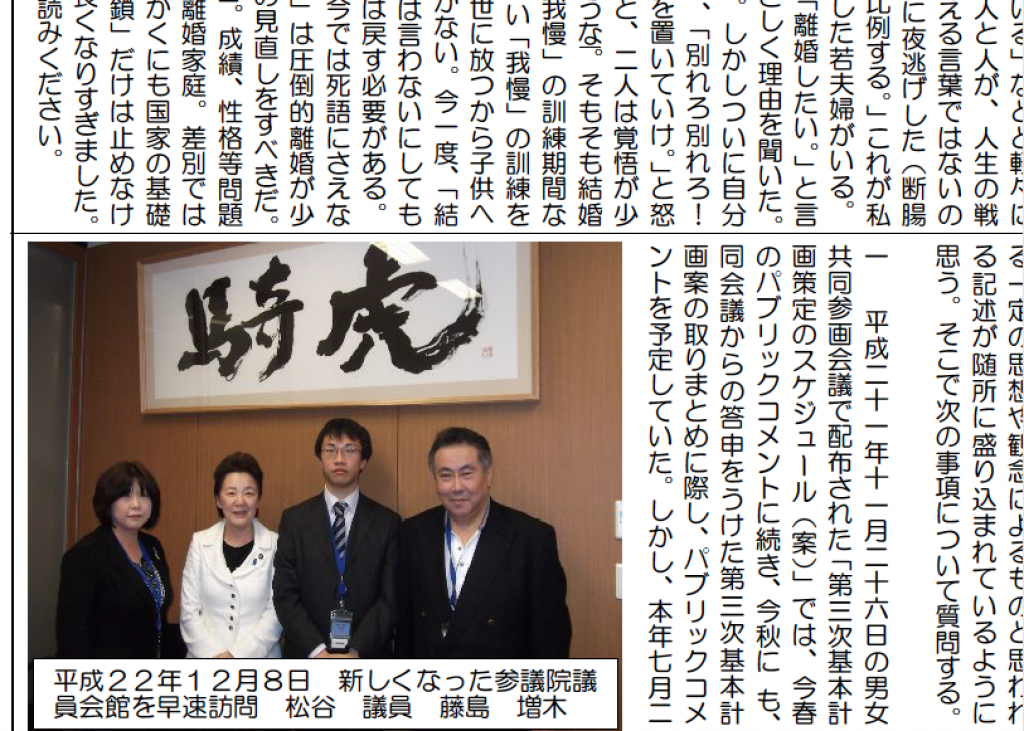 In a section of the newsletter, called, Yamatani Eriko's Report From The Diet, Her right wing supporter explains in witty prose that women in Japan should have their right to divorce taken away from them as part of promoting gender equality. And of course, let's do something about those tax dollars stolen by capricious single mothers. It's as if to say, "once you're married, a woman should have no rights."
Not only is this newsletter one more link to Yamatani and the racist she says that she doesn't know, it makes us think she isn't a person who will really want to ensure the police crack down on domestic violence or stalkers—if she really agrees with this guy. Who she doesn't remember.
You can download the full PDF of the newsletter here, which also has a nice picture of her with the Zaitokukai right wing racist she claims not to know.
*We were unable to get a comment from Ms. Yamatani on the contents of this essay at present.