Rural depopulation is a serious problem in Japan, so much that for the past decade, media fiction has devoted an entire genre into telling its stories. Bankrupt shops with their shutters permanently closed, desolate mountain and sea landscapes, no one out on the streets but a handful of old people. These are both metaphors for, and the hard facts of, most Japanese rural areas. Regional governments have been desperate to bring in new residents and to this end, they're offering stipends, free housing, even matchmaking parties – on the governments' dime. Rumor has it that since the early nineties, rural towns have been recruiting parolees to become part of the local populace. This information cannot be verified. The people involved will never admit to such a program even existing. But it's there, and "The Scythian Lamb" is a brilliant fable about what happens when this program kicks in (pun fully intended) on a sleepy little coastal town. A town where, "the people are kind and the seafood is delicious."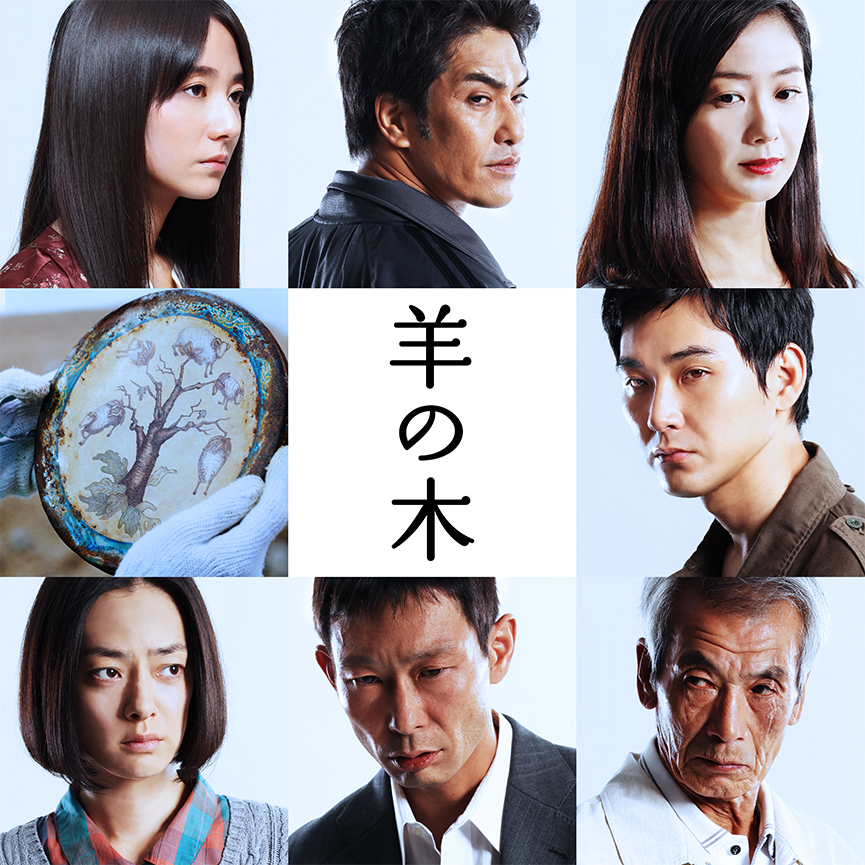 With its slow burning violence and small town melodrama, "The Scythian Lamb" is mindful in many ways of "Fargo" (the TV series) but without the broad streak of snarkiness and splashy bloodletting. Most of all, the dystopian despair that make up much of "Fargo" (and like-minded others) is missing from "Scythian…"
This isn't a spoiler but the ending is hopeful, even happy. The final scenes close on a rural town whose residents are marginally more joyous than they were last year and there is absolutely no mention of the violence that erupted briefly like fireworks, then disappeared into the night sky. However, the journey to the peaceful end is not easy.
Six ex-cons, all who had served time for murder and now on parole, are selected to live in a fictional seaside town called Uobuka (which means 'fish deep'). One by one, they arrive – four men and two women between the ages of early 30s to mid-60s – and are given a welcome by the city hall worker Tsukisue (played with breezy finesse by Ryo Nishikido). They are allowed to live in the town, on the condition that they take jobs provided them by city hall, and that they stay for 10 years. In other words, they've exchanged a shorter prison sentence for another kind of penance. Already, one of them (Kazuki Kitamura), who represents Japan's new breed of criminal, has started to complain that he will be "bored to death" here.
Tsukisue is still young, lithe and naive though his high school pal Sudo (Satoru Matsui) assures him that living out in the boonies ages everyone twice as fast. "In your case, it's four times as fast,"  Tsukisue jokes to the noticeably overweight Sudo. But Tsukisue may be envious of the fact that fat or not, at least his friend has a wife and daughter to go home to. Tsukisue on the other hand, looks like a guy who has been celibate for a long time, which is fast becoming the norm for many single Japanese men. But (and this is the thing about Tsukisue) the guy is NOT bitter. He's gentle, kind and above all, conscientious. He does his job, and then goes home to take care of his dad who is recovering from a stroke. Not much of a life for a good-looking dude. But when he discovers that the newcomers he had chaperoned were each convicted for murder or manslaughter, Tsukisue's equilibrium is shattered. Will they, you know, like, do it again? His supervisor intones to Tsukisue not to dwell on the past. "And don't go telling people they've just gotten out of prison," adds the supervisor, because this project could well have a bearing on "Japan's future."
Based on the award-winning manga by Tatsuhiko Yamagami and Mikio Igarashi, "The Scythian Lamb" is directed by Daihachi Yoshida. As one of Japan's last old-school filmmakers, Yoshida has a solid reputation for churning out crime/suspense blockbusters like "Pale Moon" in 2014. "Scythian…" shows Yoshida in an unusually political mode, exploring the many woes of Japan's rapidly shrinking, super aged population and the general feeling that ours is a no-hope, claustrophobic society. Which is probably true, but in "Scythian…," the suggested silver bullet is violence. No one is excited about Uobuka being, in the words of Tsukisue, "a nice place with kind people and great seafood." But when a dead body turns up on the pier, everyone seems to get a glint in their eye. A cloudy sky turns blue. An old man even gets laid.
All this is cause for celebration, considering that most of the Uobuka populace acts half-dead most of the time. Even Tsukisue's high school crush Aya (Fumino Kimura), the supposed heroine of the story, hardly speaks and never smiles. Aya, Tsukisue and Sudo had once played in the same rock band and Tsukisue tries to rekindle their friendship by inviting them to practice again. Aya reluctantly agrees. Big surprise for Tsukisue when he learns that she has started dating one of the ex-cons: Miyakoshi (Ryuhei Matsuda) who comes off like a bullied victim but actually hoards menace like a grandmother with yarn. You know those skinny, quiet guys who may or may not be a serial killer in a Netflix series? That's Miyakoshi, right down to his discount sneakers. (Editor's note:And if you're a student of true crime in Japan, he channels all the skinny sociopaths who have been responsible for some of Japan's more horrendous mass murders in recent years–but of course, he's not one. Not quite) 
The others are as compelling if not as troublesome. Still, whenever one or the other is in the frame you sense a storm brewing: Min Tanaka as the ex-yakuza who did eighteen years for killing another boss and feels that it may be too late to start afresh. There is Kazuki Kitamura's Sugiyama who really enjoys stirring things up, and seems like a refugee from the dismantled gang, Kanto Rengo, which won fame for beating their enemies to death with baseball bats. His confrontation with the ex-yakuza rings surprisingly true. And there's Shingo Mizusawa as Fukumoto, an ex-barber who slashed his boss's throat with a razor. The women are given less to do but Mikako Ichikawa and Yuka try to make the most of their roles. Yuka is in her usual hot-chick mode, but Ichikawa manages to steal some scenes as a woman who had routinely been beaten by her boyfriend until one night she cracked his skull as he slept, with a large bottle of sake. "I'm a scary woman," she tells Tsukisue and it's moments like these that Uobuka morphs from a nice place with great seafood, to somewhere real.
Opens February 3rd.
Editor's note: In my opinion, one of the best Japanese films in recent years. The story is subtle, the acting restrained, the quiet violence is convincing.  The movie also has a hypnotic, ethereal  soundtrack that matches well with the buried mystical theme that pulls the film together. (Jake)