by Kaori Shoji
If you missed last year's Cannes Palme D'Or winner Shoplifters here's another opportunity to see filmmaker Hirokazu Kore-eda in action. Kore-eda's latest is Shinjitsu (international title: The Truth),which marks a celebratory first foray into working with an international cast and staff. And what a cast: the leads are French femme fatale extraordinaire(s) Catherine Deneuve and Juliette Binoche, joined by American indies icon Ethan Hawke.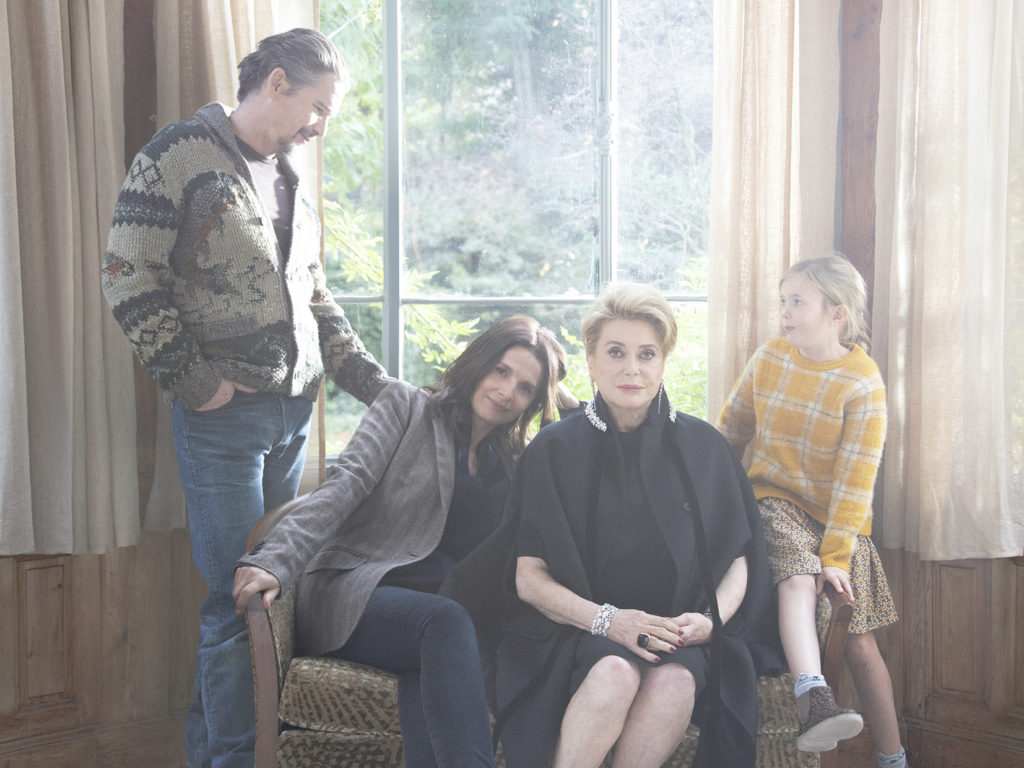 Don't let the Kanji character title fool you – nothing about "Shinjitsu is even remotely Japanese. To my relief and Kore-eda's credit, he's not pandering to western ideas of 'Japanese-ness' here, Not even a mention of a sushi restaurant. And he never shows signs that he's a bit awed by the exalted figures walking around on his set. He simply goes about doing what he does best, which is portraying women in the family circle. (He does that with men too, but with women his gaze is warmer and far less analytical.) The filmmaker is especially adept at observing the emotional tug-of-war that inevitably erupts between older mothers and middle-aged daughters, the gentle power-mongering between husbands and wives, or the family matriarch quietly exerting her influence on the rest of her family. In Shoplifters, Kore-eda paid special attention and tribute to Kirin Kiki who starred as a sly, feisty old woman on the brink of destitution, surrounded by a family that subsisted on theft and shoplifting. Kiki died last year at the age of 75, – the same age that Catherine Deneuve is now. Kore-eda has said in interviews that he finds older women fascinating, not just because of the lifetime of stories they harbor but because they don't capitulate easily to his directions, and has their own opinions.
With Catherine Deneuve in Shinjitsu, Kore-eda's gaze lingers long and lovingly over the stunningly smooth contours of her face. When she speaks, everyone else falls silent, as Kore-eda makes sure she commands the kind of attention usually reserved for royalty. But then, pourquoi pas? Deneuve is probably the closest presence to royalty in France anyway. If Marie Antoinette were around to see Deneuve, she would probably be a fan.
In this, Deneuve plays Fabienne, a veteran French actress who has been estranged from her daughter Lumir (Juliette Binoche) for years. But now her daughter, son-in-law Hank (Ethan Hawke) and granddaughter Charlotte (Clementine Grenier) has arrived in Paris from New York where they live, ostensibly to celebrate the publishing of Fabienne's autobiography. From the beginning scenes when Lumir, Hank and Charlotte are rolling their suitcases across Fabienne's large garden to get to her house, everyone's nerves are on edge. Lumir is worried about what her mother may have wrote about her, and pissed off that Fabienne hadn't sent her the galleys, even though she had promised. Hank – a TV actor, is uneasy about the fact that his wife pays most of the bills (Lumir is a screenwriter) and he doesn't speak French. Even 7-year old Charlotte is apprehensive about meeting "grandmere," as she understands that Fabienne isn't your typical doting grandma. Indeed, Fabienne's reception to the trio is cool and matter of fact, devoid of frilly dramatics that can accompany family reunions.
Lumir and her family is set to stay for a week, and Kore-eda traces each day with meticulous attention to detail. Fabienne is working on a movie – a sci-fi film about a mother who never grows old, but can only see her daughter once every 7 years. Lumir ponders over the wealth of meaning in that premise, while Fabienne just wants to get into the role and be good at it. Everyday, mother, daughter and granddaughter drive together to the film set and Lumir learns to put her initial animosity aside to look after her mom and enjoy her time there. Back at home, Fabienne's current live-in boyfriend makes all the meals and her long-time secretary Luc arranges all her business affairs. Clearly, Fabienne hasn't lost her allure to men; they flock around her like bugs to an incandescent light bulb. Even Lumir's vagabond dad Pierre puts in an appearance. And one night when Fabienne kisses Hank good night, he becomes giddy enough to tell his wife all about it.
In the midst of it all, Lumir's old resentments toward her mother come tumbling out of her emotional closet, but mother and daughter have both reached a point when they know that arguments won't change anything – least of all, Fabienne. "I was never a good mother, but I am a splendid actress which is far more important," says Fabienne at one point. Deneuve wears that line like a queen draping a long fur coat, and damn what the animal activists might say. (In the film, Fabienne walks her dog in leopard skin, the irony of which goes right over her head.) And Lumir turns her face away, and you can see she's trying to hide a smile as if to say, "that is SO my mother." It's odd, eclectic moments like these that Kore-eda loves to depict; and no doubt it wouldn't have gone over so lightly had the cast been Japanese. Family relations on the archipelago tend to be weighty, accelerated by decades of sameness and continuity. Kore-eda frequently punches a hole in that schematic, and he proceeded to tear that wide open in Shoplifters.
However, in Shinjitsu, and in Paris, Kore-eda seems to breathe easier, untethered by conventions, with a lot less to rebel against or prove. Apparently, the man doesn't speak French beyond a few mundane phrases and the screenplay (written by him) was adapted into French by Lea Le Dimna. He made the whole thing mostly on gut-feeling and intuition and in many ways, Shinjitsu is his best work. Will he leave Japan to become a full-fledged international director? After Shinjitsu, that seems a likely scenario, which means the Japanese film industry will just have to carry on without him. What a devastating loss.