Tokyo – September 11/ 2012 was the one year and six months anniversary of the big Tohoku earthquake and tsunami disaster, followed by the Fukushima nuclear accident.
The nuclear disaster has displaced more than 100,000 people. The nuclear disaster also made huge amounts unusable land in northern Japan for decades to come. Critics in Japan and overseas have largely questioned, whether TEPCO (Tokyo Electric Power Company) has sufficiently considered the tsunami and earthquake risks.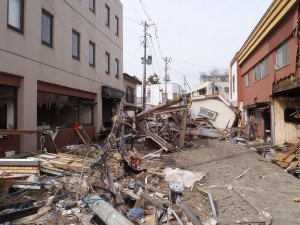 For more than eight months, the 20 km zone around the Fukushima power plant was a forbidden zone where evacuation was an obligation for everyone, except one man. Since the nuclear accident, Naoto Matsumura refuses to leave his farm. At the age of 53, this farmer is physically in a good shape. In the city of Tomioka, in the Prefecture of Fukushima where he currently lives, there is still no water and no electricity. People who can identify themselves as being residents of the evacuated area and members of their families can get inside with a special pass. Reporters have requested these passes by pretending they were "married" or somehow "family related" to the residents who originally lived in the evacuated zone in order to get inside and report how it is. Therefore, Mr. Naoto Matsumura is not the only man going inside the forbidden zone, however he is still living there in his original home with the animals which he took under his responsibility. The police patrols and the border guards do not seem to be very picky on checking the faces and the identities of the people going inside and outside, like foreign reporters, because of the necessary masks and whole body white suits.
Naoto Matsumura has spent two hot summers without electricity at all, and he said it is a matter of accustoms to survive without electricity. "I feel like being Robinson Crusoe in his deserted island," he said over the telephone today.
Mr. Matsumura usually never gives a phone call from his own initiative, but yesterday night, the phone rang at 9PM. He said that he felt a bit lonely, and that when the evening comes, everything gets dark so he has nothing else to do but to lay in his futon and drink some sake to wait until the night passes. "Time goes by slowly in those moment. I have no electricity, no tap water, no television, nothing else but sake to entertain my evening. But how strange it is, I am not envious of watching TV at all."
Currently, Naoto Matsumura is taking care of three dogs, Taro and Ishimatsu, and a third little orphan he found near the awful cow skeletons, now so sadly famous. Just three weeks ago, Mr. Matsumura was paying a visit to some remote areas of Tomioka town, and he said "the poor dog probably got a skin or fur infection. He was lying there in the middle of the dead cows, he looked sad and depressed. His fur had gone off, and it looked skinny. When I approached him, he didn't react aggressively, on the contrary, he looked happy to find a man, alive. So he followed me into my pick up truck and I took him home and fed him." Mr. Matsumura called the dog "Kiseki", the word for "Miracle."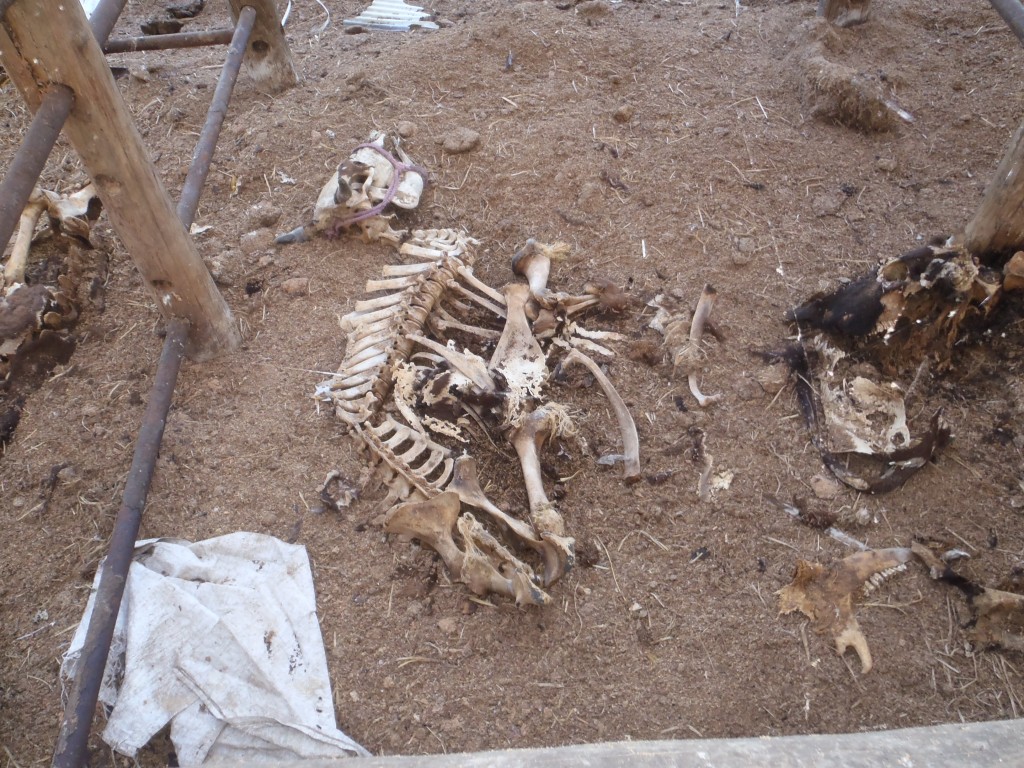 Poor little Kiseki, aka Miracle, will probably never be adopted by anyone in Japan, like some other Fukushima dogs had been recently. He looks too ugly, nobody would want it in the living room or even in one's garden. He can only live in the Fukushima no-go zone, counting on the gentle voice and love of Mr. Matsumura, and his two companions, Taro and Ishimatsu, which accepted him pretty well, since they all share the same fate.
Other than the team of four, who often stay together, there are additional 30 or so cats, which are much more independent and learned to live pretty much in the wilderness, but which still count on the hands of Mr. Matsumura to be fed occasionally.
There are two ostriches, two females. One of them got a big egg recently, but it was technically not fertilized and so will never be the next eggs.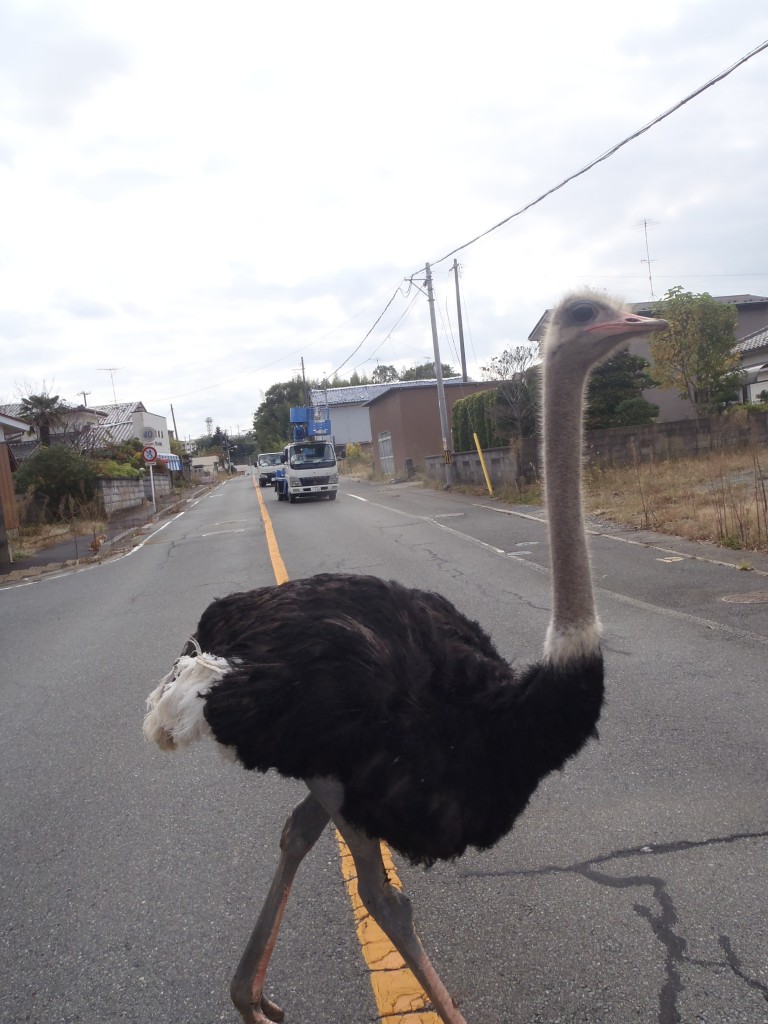 Seventy Five Cows and a Pony
Mr. Matsumura also has a little pony, called Yama, like the mountain. As for the famous cows, there are now 60 males and females and happily 15 healthy calves.
"Today, I had a visit from a reporter of Friday Magazine, so I had some human encounter, but those guys leave when it becomes dark, so it isn't fun." Mr. Matsumura never complains, but he admitted that the summer had been tough, the water from the well dried up. No air conditioning, no television, no water. "I still eat exclusively precooked food, cup noodles, instant curry and so on. I go to my attributed evacuation home only 2 or 3 times in a month."
Naoto Matsumura said he dares not ask for help to anyone, since doing anything inside the no-go-zone can affect one's health, due to the high radiation rate. However, his NGO partners from "Ganbaru Fukushima" had left him aside lately, and he is dealing with the feeding all by himself. He said sometimes he receives donation pet food from Japanese nationals who support him and encourages him. He has stayed in good contact with "Gattsu Fukushima" and its leader Endo-san, but his own NGO "Ganbaru Fukushima" had had only one active member until recently, and it's himself. Time passes by slowly indeed. But the Fukushima nuclear accident has caused the forced evacuation of more than 100,000 people in Fukushima. Many will never step their foot back in their home land again. The left behind are the animals. "We cannot do anything about them, this is a no-go zone," the authorities had said. But Mr. Matsumura continues to feed those animals left behind. And he will continue to operate inside the town until someday action will be finally taken by authorities and the Japanese people to rebuilt this region of Fukushima, with decontamination of the soil, and reconstruction of the houses.
Note from the writer: the featured image on this post is a photo of Naoto Matsumura taken by photo journalist Munesuke Yamamoto, in 2012.
"Kibou no Bokujo" is an NGO similar to "Ganbaru Fukushima".