"In life, we only encounter the injustices we were meant to correct."
Igari Toshiro, ex-prosecutor, leading lawyer in the anti-organized crime movement in Japan. 1949-2010.
Igari Toshiro, was my lawyer, my mentor, and my friend. In the sixteen years I've been covering organized crime in Japan, I've never met anyone more courageous or inspiring–or anyone who actually looked as much like a pit-bull in human form. Igari-san was a legend in the law enforcement world, the author of several books on dealing with organized crime and preventing their incursion into the business world. He was the father of the "organized crime exclusion clause", a simple but brilliant idea that is now embedded into most contracts in Japan and requires the signer to pledge that he is not a member of an organized crime group. It's already been used to arrest one high-ranking yakuza boss, and is the basis for the legislation being adapted prefecture-by-prefecture that will make it a crime to pay off gangs or provide them with capital. He was rather disliked in the underworld.
The last time I spoke face-to-face with Igari was on August 8 2010.  It was a Sunday; he had come back from Brazil and went directly from Narita Airport to his office to meet me. I asked him if he would cooperate in a documentary I was working on as consultant and a reporter for ●●● television, owned by NewsCorp, on the yakuza.
I also had a problem.
It's rather simple: In 2008, I angered a yakuza boss named Goto Tadamasa, who was head of a 1,000-member strong faction of the country's largest gang, the Yamaguchi-gumi. In an article published in the Washington Post, I wrote how he had sold out his own group to the FBI in order to get a visa for the United States so he could receive a liver transplant at UCLA. The article along with a subsequent book I helped write for Takarajima Publishing resulted in him being kicked out of the Yamaguchi-gumi on October 14, 2008. Takarijma, without bothering to warn me, published his biography this May. It's a great book–except for a bit of subtle language that amounts to a yakuza-style fatwa on my life.
I asked Igari to help me deal with the fallout from the book. After much discussion, he and his two colleagues came up with a plan. His parting words were: "It'll be a long battle. It'll take money and courage, and you'll have to come up with those on your own. But we'll fight."
On August 28th, his body was found in his vacation home in Manila, wrists slashed. Time of death unknown. It's been ruled a suicide. Personally, I believe he was killed. I probably will never be able to prove it.
Igari had been working on his final book, Gekitotsu (Collision). It's an amazing work that pulls no punches, using the real names of the yakuza and the politicians and individuals connected to them. He wrote, "Wherever it was possible, I made it a point to use the real names here. I'm aware that poses a huge risk for myself. I took that risk because I wanted to honestly write about my battles with the injustices hidden in our society and the results of those struggles. It's proper to write the name of those you've fought."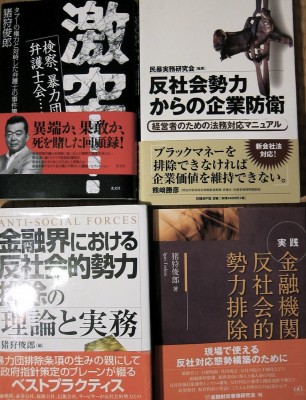 Igari has been probably more influential than any individual in the anti-organized crime movement in Japan. As discussed above, he was the lawyer who first came up with the idea of the "organized crime member exclusionary clause" (暴力団排除条項). It was inspired by problems the Westin Hotel had when Goto-gumi and his posse stayed there and refused to leave, pointing out, "there's nothing that says yakuza can't stay at a hotel."  Igari realized that legally that could be accomplished since the Japanese government does designate organized crime groups and members officially. All it would take was adding a clause to any contract in which the individual signing has to clarify whether or not they are a yakuza, and if they are, the establishment reserves the right to unilaterally nullify the contract. It's now part of almost any standard contract in Japan, even Sports Clubs. It has been used effectively by the police. A yakuza boss opening a bank account this year was later arrested for fraud because he lied about his yakuza affiliation on the contractual agreement with the bank.  The organized crime exclusionary ordinances (暴力団排除条例)which are sweeping the country, prefecture by prefecture, were also his brain child.  This year I met up with a high-ranking member of the National Police Agency, who had a copy of Igari's book on his desk, and said, "In the war on organized crime, Igari-sensei was the equivalent of a five star general. He will be sorely missed."  The current head of the National Centre For The Elimination of Boryokudan was also very vocally supportive of Igari, adding, "the organized crime exclusionary ordinances would have never made into legislation if it hadn't been for the man."  (There are now more than ten local governments in Japan with these ordinances on the book, which differ from prefecture to prefecture, but generally ban pay-offs to the yakuza or providing them with capital. Violators can be fined or jailed. Corporations that do business with yakuza will be publicly named. The ordinances have the potential of being a huge body blow to all organized crime groups, depriving them of protection money and capital. By punishing the individual or firm that capitulates to organized crime, it may have the same efficacy the change in the Commerce Laws had in eliminating racketeers-総会屋.)
Before leaving for Manila on vacation, he told his editor, "I'm nosing around in dangerous places. I don't know what's going to happen to me. Let me sign the publishing contract now."
In September, my best source in the Yamaguchi-gumi told me point blank: "Igari-san was murdered by the yakuza. It wasn't Goto's direct order. He was exposing yakuza ties to Sumo and professional baseball. It angered people. You should be careful too. The yakuza don't warn people anymore, they just act."
It's a dangerous thing to expose the worst of the yakuza for what they are. Itami Juzo, directed the first realistic film about the yakuza, Minbo, in 1992. Goto-gumi members attacked him for doing it, slashing his face open. He would later tell the New York Times in an interview, "They cut very slowly, they took their time. They could have killed me if they wanted to." Eventually they did. On December 20, 1997, after a weekly magazine wrote about his extra-marital affair, he allegedly killed himself. A former member of the Goto-gumi told me in 2008, "We set it up to stage his murder as a suicide. We dragged him up to the rooftop and put a gun in his face. We gave him a choice: jump and you might live or stay and we'll blow your face off. He jumped. He didn't live."
In 2005, yakuza fan magazine writer Suzuki T wrote an article that poked fun at a yakuza group. They broke into his office and beat him to a pulp. In 2006, Yamaguchi-gumi thugs stabbed the son of non-fiction writer Mizoguchi Atsushi, because their boss was unhappy with one of his articles. Two members were arrested. Their boss was not. On April 17, 2007, the mayor of Nagasaki was gunned down after refusing local yakuza involvement in public works projects.
I try to be very careful when writing about the yakuza, and mindful of my sources, some of whom are members. I hate to admit it, but there are still those in the organizations that do follow a code of honor.
I understand the unwritten rules in Japan. Yakuza fan magazines are sold here in the open: three weeklies, three monthlies. They do interviews with current yakuza bosses, but the questions are limited and there is an implicit understanding that even after the interview is done, the boss reserves the right to edit or scrap it. As one veteran detective explained to me, "if you violate that rule, there will be harassment and often retaliation."
I probably didn't communicate that fact well enough to the ●●● television production crew that came to Japan. Through the sources I introduced they interviewed three current yakuza members, but didn't alert me that they ran into trouble. The best I could do was warn the local National Geographic offices about it and talk to the head office in Washington DC. They were very responsive and hopefully nothing will come of it. But if it does, it will be my sources and the local Japanese staff who take the hit. I'm not an easy target because I'm under police protection. The staff are not.
The yakuza don't have much pull in the US. They harass whoever will give them leverage. It's why I don't move my family back to Japan and why leaving Japan is not an option for me. I have to take care of my sources. It's my responsibility.
I went to Igari's offices in September to pay my respects; there was no funeral. There was a little shrine for him in his office, but everything was pretty much as he'd left it. On his desk, was an article about the Sumo Association and match rigging, heavily noted. His secretary told me, "Igari-san was really happy to take your case. He laughingly bragged to everyone, 'I'm representing a reporter for National Geographic–that makes me an international lawyer!' " I could visualize him saying that with his deep, rolling laugh.
Grief is a funny thing. Seeing his empty desk, for the first time I got a little misty-eyed. Not too much, because there were people around, you know. It wasn't very manly, but I didn't cry.
You may wonder why I keep doing a job that is increasingly dangerous. I wonder myself. Partly, it's because Japan is my home. I've lived here for more than twenty years. I'd like it to be a better place. In the old days, we'd call that civic duty.
I once asked Igari-san over wine, "Have you ever been threatened?  Do you ever fear for your life?" He didn't answer my question directly.
"I became a prosecutor because I wanted to see justice done in this world. When I quit and became a lawyer, I didn't go to work for the yakuza like many ex-prosecutors do. I continued to fight them. Not all yakuza are bad guys, but 95 percent of them are leeches on society: they exploit the weak, they prey on the innocent, they cause great suffering. If you capitulate, if you run away, you'll be chased for the rest of your life. And if you're being chased, eventually what is chasing you will catch up. Step back and you're dead already. You can only stand your ground and pursue. Because that's not only the right thing to do, that's the only thing to do."
And so I stay. Igari-san wasn't an investigative journalist and he wasn't a saint. But he fought for justice and for truth, and as an investigative journalist, I've always believed that's what our job entailed. Forgive me if that sounds naive. I believe that, if no one stands up to the anti-social forces in the world, then we all lose.Igari-san wasn't an investigative journalist and he wasn't a saint. But he fought for justice and for truth, and as an investigative journalist, I've always believed that's what our job entailed. Forgive me if that sounds naive. I believe that, if no one stands up to the anti-social forces in the world, then we all lose.
When I called Igari's editor, he knew who I was. He told me, "Igari said you're the most trustworthy, crazy, and courageous journalist he knew." It's the first time I've ever been praised by the dead, and more than I deserve. But it made me feel an obligation to live up to those words. Sometimes, the only way to honor the dead is to fight for what they died for. It's the only way I know how to mourn.
An abbreviated version of this article was originally published on the Committee to Protect Journalists blog.
Memo: Autopsies are only done for 4% of the suicides in Japan. In the last two years several cases ruled to be suicides later turned out to be murder. Check out this excellent investigative article translated from the Yomiuri Shinbun. I would imagine staging a murder as suicide in the Phillipines is even easier than doing it in Japan.
originally published in 2010.