"Look around you. Do you think Tokyo needs nuclear electricity?" Naoto Matsumura, observing Tokyo life in Yurakucho, one day after all the nuclear power stations have been shut down in Japan, temporarily.
Japan's last operating nuclear power plant reactor went off yesterday, but only for maintenance. Japan had 54 reactors before the Fukushima Daiichi power plant accident last year. This weekend Tomari nuclear power plant in Hokkaido shut down and  Japan is running without nuclear energy for the first time in 42 years.
The Washington Post reported some anti-nuclear power demonstration in Tokyo on Saturday, which coincided with Children's Day. The traditional 鯉のぼり/koi nobori, carps flying in the air, on the Children's Day,  became the symbol of the anti-nuclear movement.
Naoto Matsumura, the well-known farmer, who stood alone against the government's decision last year to evacuate the cities situated within the 20km zone around the Fukushima Daiichi nuclear power plant, because the fauna in that zone would go out of control, visited Tokyo on Saturday and Sunday. The purpose of his visit was to participate in  a fund rising event in Yokosuka for the Fukushima animals.
Naoto Matsumura and his friend Mr. Kaneko said at a press conference in Tokyo last February that they were actively trying to set up an NGO to look after the abandoned farm animals or residents' pets. After three months of struggle, Mr. Matsumura said that his NGO called "Ganbaru Fukushima" ("がんばる福島") got approved  by The Civil Society Support Center of Yokohama very recently, and will be officially starting out on May 11th 2012. "It is almost 90% sure that they will approve our activities, but the official starting date will be on May 11th", he said today. The NGO's leader is Naoto Matsumura, and the vice-presidents are Mr. Kenji Kaneko, together with professor Yamashita, from JAXA. Under the three leaders of the new group, there are an additional 10 people from various backgrounds supporting Ganbaru Fukushima's activities.
Naoto Matsumura, on his way home to Koriyama this evening, the closest city to Tomioka Town where he lives, paid a visit to TEPCO headquarters near Shinbashi station, in Tokyo. As he was staring at the buildings, he recalled all the times when he went there to ask the leaders to shut down all their nuclear power plants. On Saturday, it became reality. Matsumura on his way to Tokyo station said: "Look around you. Does Tokyo need nuclear electricity? Is the city in darkness?"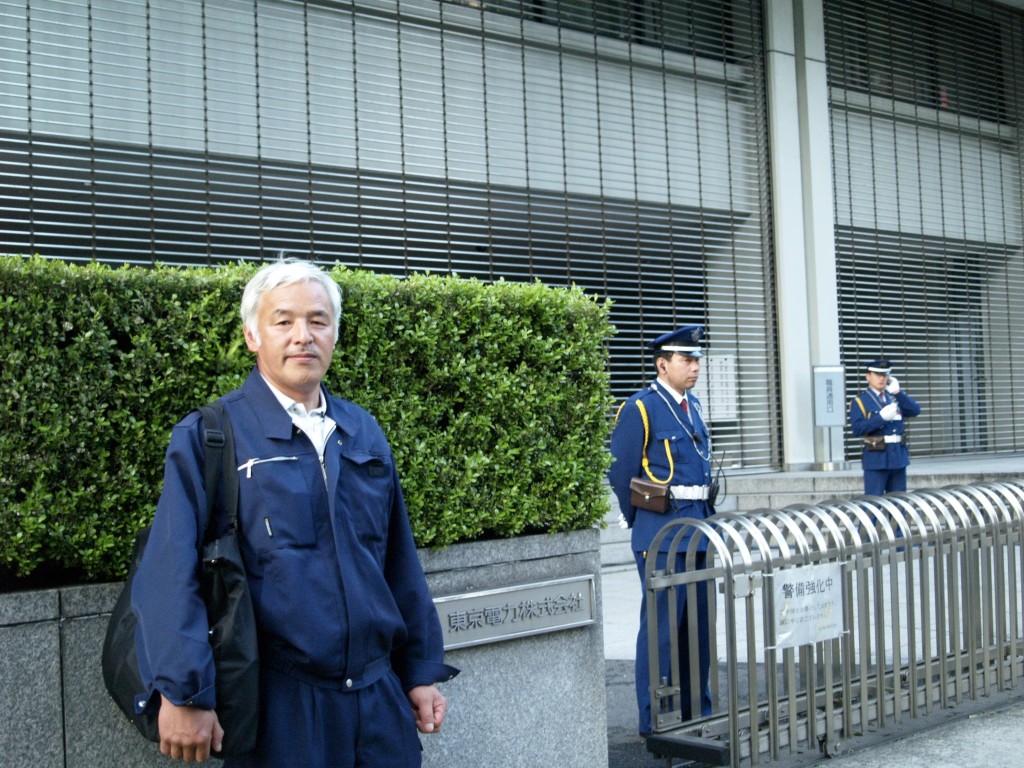 And he quietly walked from TEPCO headquarters to Tokyo station to take a bullet train back to Fukushima.