The people of Nara mourn the sudden death of Shinzo Abe. Photo by Beni Adelstein.
Many mourned the violent death of former Prime Minister Shinzo Abe in Japan yesterday–whether they supported him or not, the people of Nara recognized that the loss of human life is always tragic.
Reporting by Beni Adelstein and Himari Shimanz.
Flowers, tea and beers, as is customary in Japanese culture, laid by the public mark the site where Shinzo Abe was fatally shot. Yesterday, people made trips from near and far to commemorate Abe's passing. The overwhelming feeling on the day was that of sadness, with flowers periodically being taken away to make room for the endless flow of offerings. Even for those unfamiliar with his political work, many were sad to hear the news of his passing. One of the many who stopped to add to his growing memorial told us, "I've known Mr. Abe as the leader of Japan for most of my lifetime. Because of that, regardless of how his politics were, whether his politics were good or bad, it is really sad for someone who had taken on such responsibility and come this far to pass away. I know every person has their own opinions but I think that it comes down to an individual having passed away.".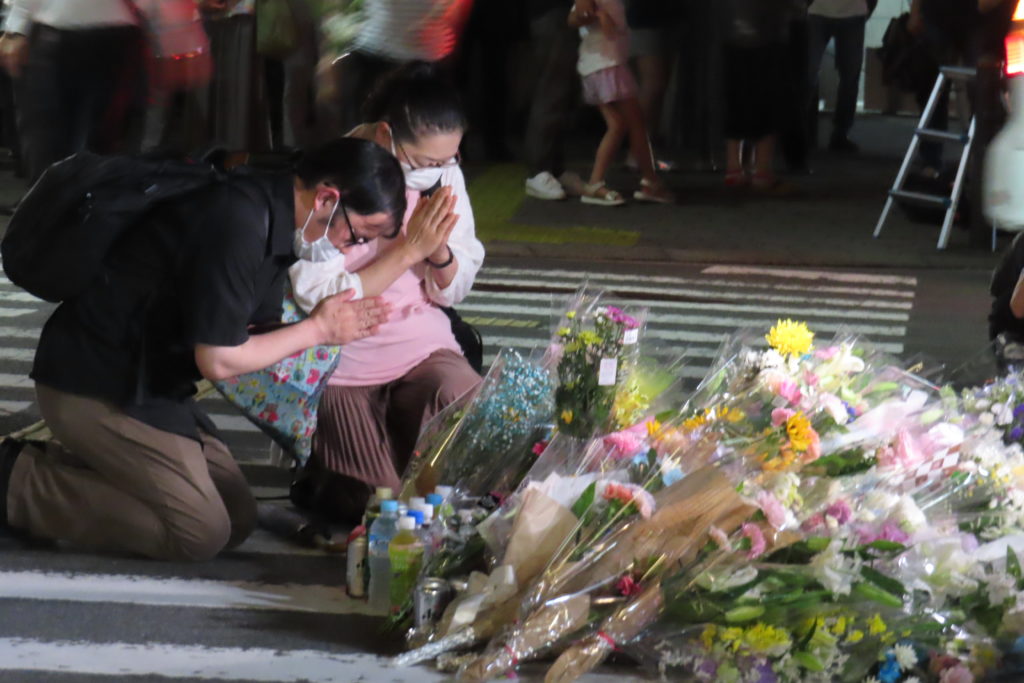 It was a shock to everyone when the unthinkable occured.
At 11:30 am July 8th, former Prime Minister Abe was shot from behind at a campaign rally outside the Yamato Saidai-ji Station in Nara. He went into cardiac arrest and showed no vital signs. After four and a half hours of medics trying to resuscitate him, Shinzo Abe, Japan's longest serving Prime Minister, at age 67, was officially pronounced dead at 5:03 pm yesterday as the result of two gunshot wounds. The alleged attacker, 41 year old Tetsuya Yamagami, was arrested on site and was found with a handmade firearm. In Japan, a country with some of the world's strictest gun's laws, gun violence is extremely rare, let alone political assasination attempts; the most recent one having occurred in 2007 when Nagasaki mayor Icho Ito was shot by a member of a yakuza group, the Yamaguchi gumi. This is actually not the first incident Abe has been the recipient of violence from the yakuza, and in 2000, the Kudo Kai perpetrated an attack by throwing firebombs at the former prime minister's office . At this point, it is unclear whether or not Yamagami has affiliations with the yakuza but it is a possibility worth being looked into.
Regardless of the motive, this incident is unexpected and quite perplexing. As one Japanese reporter puts it, "Guns are rarely the weapon of choice, let alone a handmade one. The use of guns is uncommon even among yakuza related incidents." Officers who raided the man's residence later that day found more crude electrically fired weaponry, including explosives and what appear to be nine and five barreled shotguns. All nearby residents were evacuated. Yamgami has confessed to the assasination of Abe and is awaiting prosecution.
Not only has the shooter left us with many unsolved questions, but also the security team for Abe is an issue being raised. One passerby noted that there was less security present on the day than when Abe had been the sitting Prime Minister. "Mr. Abe visited my hometown too. That time he had a lot more bodyguards surrounding him because he was still prime minister. But now that he's stepped down, his security team has gotten much smaller." Another Osaka native pointed out, little to no security presence is not uncommon for politicians in Japan, "If it had been a politician without as much fame, there wouldn't have been much security at all. At most you might see supporters standing by a no-name politician. It was only because it was Mr. Abe that there was even the smallest presence of security guards and police."
Many were dismayed to hear the incident had taken place in Nara, a small Japanese city with significantly under 500,000 residents. One man from Osaka told us: "Nara is generally a safe place. Incidents don't usually happen much in Nara. Places like Osaka, where we're from, is where you see more incidents. We've never heard of any incident as big as this happening here in Nara." Another local resident felt similarly; "I grew up in Nara and for anything like this to happen here is a shock to me."
While events unfolded on the day in only a matter of minutes, the significance of his death is likely to send ripples through the Japanese political system that will stand the test of time. Shu Kanazawa spoke to us after leaving flowers on Abe's memorial. He expressed thanks to Abe for his work in politics and concern regarding the efficacy of his contemporary policies." As prime minister of Japan, you aren't doing your job right if you don't have your foreign policy together. Until now, the only prime ministers who were competent in foreign diplomacy were Mr. Koizumi and Mr. Abe. In that sense, I am really grateful for his work." On the other hand, Abe's control of the conservative Liberal Democratic Party as well as his deep ties to extremist right-wing groups have made him a controversial figure. He is also reviled by some for the role he played in largely limiting freedom of press rights in Japan. Views on "Abenomics", his fiscal policies, aren't singular either and he has been linked with questionable political and financial scandals. Yet, at the end of this eventful day, people came together to commemorate and mourn the loss of a leader who made a substantial impact in Japan and on a global scale. How Abe's death might alter the climate of Japanese politics is uncertain. However, the mourning and gift-giving will certainly continue for days, if not weeks.
The once peaceful and ordinary square around Yamato Saidai-ji station now marks a historical event that has left the nation with disbelief, grief, and shock.
Nara, once the capital of Japan, is a city known for its greenery, rolling hills, ancient Buddhist temples, friendly residents and peaceful life. It's the last place one would expect Japan's longest reigning Prime Minister to meet a violent end. The two shots fired that day will echo in the minds of the people there for many months or years to come.