Takayama Wakagashira : The Defacto Leader of the Yamaguchi-gumi is alive and well….more or less.
 2009 should be an interesting year for us all and an especially interesting year in the world of organized crime. Around the close of the year, Takayama Kiyoshi (高山清司), the number two in the Yamaguchi-gumi, Japan's largest organized crime group, collapsed at a "company function" and was briefly hospitalized in Kobe. The cause of his collapse was a heart-attack. Apparently, dealing with the failed coup by Goto and his minions and other issues creating conflict within the Yamaguchi-gumi have taken their toll on him.
 Rumors abounded that he was in critical condition or close to dying–but as you can see in these pictures, taken over the New Year–he is still very much alive.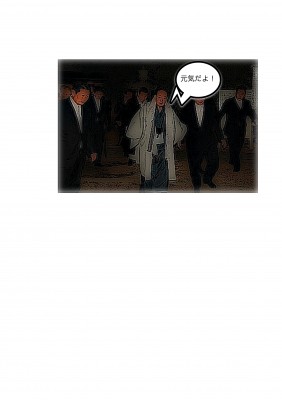 The ruler of the Yamaguchi-gumi, Tsukasa Shinobu, is also said to be in poor health, possibly suffering from prostate cancer.  Medical care in Japanese prisons is terrible so you can't help but feel a little sorry for him if it's true.  In any event, with the two defacto heads of the Yamaguchi-gumi in poor health–strife is sure to follow. 
The second photo is from the Yamaguchi-gumi's annual rice cake making festival (餅つき大会)which is open to the public, and usually performed in front of their massive Kobe Headquarters. Who can dislike gangsters that make such delicious traditional Japanese treats?