The competitive world of digital comics is about to get a lot bloodier. Japanese digital publisher, Comic Animation Inc, has just released two new types of hybrid manga/anime  for the iPhone/iPad that add new dimensions to the digital comic platform—and include new original works by legendary manga character designers and creators Mamoru Oshii (Ghost In the Shell) and Kamui Fujiwara (Dragon Quest).
Today at the Foreign Correspondent's Club of Japan press conference (January 23rd, 2013)  the usually somber Oshii spoke about his latest creation, Chimamire Mai Love (My Soaked In Blood Love or Blood-Stained Mai Love), which is a black comedy about a high school student with a fetish for donating blood and his strange friendship with Mai, a wandering Transylvanian vampire–who is too timid to actually bite anyone. When the two form a friendship–well in situation comedy parlance, "whacky, blood chaos ensues."  The young boy's attempts to procure more blood for his beloved turn into low comedy far removed from Let The Right One In.
"I can't stand the sight of blood myself but I love getting IV transfusions. I get them whenever possible. It makes me feel great.–Mamoru Oshii"
It's the kind of slapstick comedy that Oshii said he has not done in years.
The story is told almost from entirely from a first person perspective, with a minimal amount of animation, highly detailed drawings which are intricately colored, and some sparse sound effects.
When we asked Mr. Oshii why he thought so many Japanese teenagers were drawn to giving their blood, the so-called 献血マニア (Kenketsu-mania), he laughingly quipped, "I can't stand the sight of blood myself but I love getting IV transfusions. I get them whenever possible. It makes me feel great."
He then launched into a long monologue on Japanese fascination with blood, including the practice of defining people's personalities by their blood types. "Blood is the only part of the body that we can take into ourselves and put back. It has no shape in and of itself.  We can store it up and put it back—derive power from it…. Like certain athletes," he added, making an oblique Lance Armstrong joke.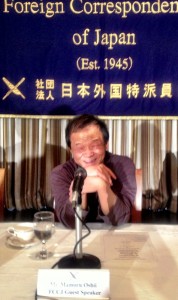 Oshii stated that part of the inspiration for the comic strip were his thoughts on blood itself and from wondering about how different types of blood would effect a vampire. He himself seems to have more sympathy with the vampires than with the serial blood donators but did admit, "I don't want to sound like a dirty old man but I don't think I'd mind having almost all of my blood drained out of me by a very attractive young vampiress."
Kamui Fujiwara's Gin-Iro-no-Usagi (Silver Rabbit) follows the the adventures of a boy who wakes up as a Cyclops with magical powers, such as near X-ray vision, in a world populated by Japanese mythological characters and monsters, including everyone's favorite, monster umbrella (傘お化け)*.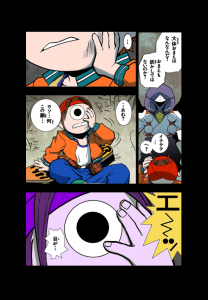 Fujiwara has modeled the structure of the comic book artwork so that it is presented in three layers; if the reader gently shifts the iPad, objects slide, other layers can be seen, giving the work a faux 3-D aspect. "There are changes in color and close-ups available with a flick of the finger, or even a change of perspective with minimal movement. However, if you just want to read the work as a plain ordinary digital comic strip, you can do that as well."
The structure for Fujiwara's piece was inspired by the 18th century Nozoki Karukuri, which were viewing machines for looking at comic-like art. These viewing machines and the stories told with them  are considered the roots of Japanese anime. If you're not a student of Japanese culture but you're old enough to remember the stereoscopic 3D wonder-toy called the Viewmaster, you may find that reading Silver Rabbit seems oddly familiar and fun.
The U.S. version of the app is in English—and to be honest, the English is a little off, but readable. The app download for the comics is free, but chapters are $2.99.
There have been many attempts to popularize digital comic books but both Oshii and Fujiwara said they participated in the project because they feel the app allows them to utilize technology to give a better reading experience for the manga fan and make their original work more widely accessible.
Check it out here. You may feel it's worth $2.99 and you don't have to donate any blood to read the work either. (Although, no one will stop you if you want to….)
*Personally, I've always felt that that monster umbrella wasn't mythological but an actual creature in Japan because every umbrella I've ever had here vanishes after a few rainstorms or walks away. And since Japanese people are generally very honest, I can't believe people are taking my umbrella. So it only makes sense that after a certain amount of time neglected umbrellas become sentient and roam the land causing trouble.