"I think that the reason the general public identified with the roles I played, was that they were struck by my stance as a man who unrelentingly stands up to absurd injustices. It wasn't just that I was just going off to a sword fight, but that my character was willing to sacrifice himself in order to protect the people important to him."–Ken Takakura, August 2013
In honour of Japan's Celebration of Cinema Day, December 1st, we've reposted some reviews and articles on classic films. Some good, some bad, some epic. This was originally published shortly before his death. 
Japan's best actor Ken Takakura has died of lymphoma, at age 83. The actor passed away at a Tokyo hospital on 10 November, his office said on Tuesday. He has been called  the "Clint Eastwood" of Japan.  Takakura was renowned for his stoic roles in scores of action films and yakuza movies–he was also adept at playing tough but caring men, clumsy in expressing their emotions. He played alongside Robert Mitchum in Paul Schrader directed film, The Yakuza in 1973. He also starred as a by-the-book, honourable and ultimately brave Japanese police officer alongside US actor Michael Douglas in the 1989 Ridley Scott film Black Rain. One of his lines in the movie, probably inspired millions of Japanese men to later study English conversation: "(I'm ) Assistant Inspector Matsumoto Masahiro, Criminal Investigation section, Osaka Prefecture police. And I do speak fucking English."
Mr. Schrader told me in March of 2011 that Takakura was one of the most impressive actors he'd ever worked with and that his Kendo (Japanese fencing)  ability seemed top-notch. He had once offered Takakura the role of Yukio Mishima, the literary genius turned right wing extremist, in his bio-pic film Mishima and Takakura had seriously considered it. However, in the end for reasons he only obliquely hinted at, he politely declined the role. The film Mishima has never been shown in a film festival in Japan.
Among his well-known films were "The Yellow Handkerchief".  He won the best actor prize at the Montreal World Film Festival for "Poppoya" (The Railway Man). He also appeared in some the final "real-life" yakuza bio-pics including 3rd Generation Leader of The Yamaguchi-gumi. During the filming, the former head of the Yamaguchi-gumi, Kazuo Taoka, actually visited the set and spoke with Takakura. Ken Takakura was the consummate professional and even in supporting roles such as in Mr. Baseball, he brought dignity to the Japanese characters that seemed to embody many of Japan's virtues.
In August of last year, we were able to interview him via FAX and his polite and short responses give a good sense of the man. They are here in both English and Japanese.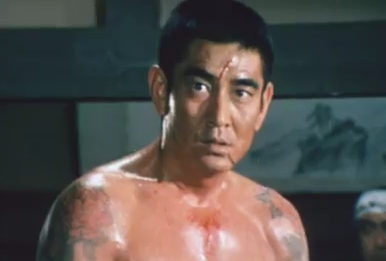 originally posted on January 31st 2014
Ken Takakura, 82,  aka "the Alain Delon of Japanese cinema" was awarded one of Japan's greatest honors on November 3rd 2012. The  Order of Culture was given to him by the Japanese Emperor at a ceremony held at the imperial palace. Four other notable people, such as researchers and literature academics also received the award.
Known as to be very quiet and tough, Ken Takakura (高倉健氏) rarely gave interviews to the media throughout his career. He is known for having stayed silent nearly  for 13 seconds (a record for Japanese TV programs) after a famous television caster asked him a question that he did not want to answer. "In Japanese show business, only a tough and well respected celebrity is able to stay silent during a live show and have that tolerated by the producer," explained a newscaster for one of Japan's largest broadcasters.
Ken Takakura became an icon of the so-called ninkyou eiga, (任侠映画) or yakuza chivalry movie, inaugurated in 1963 by Toei Production. In the 1960s, as Japan was still recovering from its lost war and musing over the the atomic bombs dropped on Nagasaki and Hiroshima, the Japanese audience wanted to see heroes in the black market making justice in the streets and feeding the dismissed hungry people, right after the war. The movie that kick started his career was Abashiri Prison. He also gained international recognition with the war movie Too Late The Hero, in 1970, and The Yakuza, in 1975. His role in Black Rain with Michael Douglas 1989, made him even more well-known in the West.
Takakura-sama, agreed to answer few questions for JSRC. We carefully translated it and have posted the entire interview. We are also posting it in Japanese, for our Japanese readers.
Interview with Ken Takakura, in August 2013
JSRC: At present, many film fans in the world see you as the personification of the yakuza on screen, almost a symbol. What are your feelings about this?
Ken Takakura: It's true that I did many yakuza films in the past, but whether or not I'm a symbol or not, I don't know. I have done many other roles besides those of a yakuza.
JSRC: What led you to join the world of cinema?
Ken Takakura: I had to make a living.
JSRC: What kinds of movies do you like?
Ken Takakura: As I get older, my tastes changed, but I like movies that pierce the human heart and linger with me.
The Deer Hunter, 1978.
The Godfather 1 & 2.
Gladiator  (2006).
Heaven (2002).
Posta Pappi Jaakobille (2009).
JSRC: Do you have any interest in the modern yakuza films?
Ken Takakura: None whatsoever.
JSRC: Mr. Takakura, you have been called the Clint Eastwood of Japan, what do you think of that?
Ken Takakura: It's what someone else thinks, so I have no thoughts on the matter.
JSRC: Why did you leave Toei Production in 1976?
Ken Takakura: There is no short answer (to that question).
JSRC: After leaving Toei, people were able to see you in many different roles? Was that your goal?
Ken Takakura: (My goal) was to meet people.
JSRC: Directors Takeshi Kitano and Miike are said to be geniuses of yakuza film but what do you think?
Ken Takakura: I've never worked with either director so I can't answer.
END.
But the most striking explanation Ken Takakura gave us was worth mentioning here.
Ken Takakura: You seem to be very focussed on the yakuza films I did while at Toei. If you want to understand, why the yakuza films were endorsed by the (Japanese) people, you can't do it without thinking of the social situation at the time.
When low budget films (picture programs) were at their peak production in Japan, I'd have a schedule where I'd be doing in 4 or 5 films a months. That doesn't leave much room to really put your heart into a role. But I think that the reason the general  public identified with the roles I played, was that they were struck by my stance as a man who unrelentingly stands up to absurd injustices. It wasn't just that I was just going off to a sword fight, but that my character was willing to sacrifice himself in order to protect the people important to him.
The thing that really changed after achieving independence from Toei was that I could choose which films I wanted to be in. I had my own standards for what films I would act in. Who would I meet? The words and lines written in the script. But the most important thing to me was this: would I be able to like the person I was going to play?*
*Portions of this interview were originally published in a French film magazine 
Please read this review by Jake Adelstein on the yakuza movies.
高倉健様とのインタビュー(2013年、8月)
JSRC: 現在、高倉さまは世界の映画ファンにとって日本のヤクザのイメージシンボルとして見られていると思いますがその事をどうお考えでしょうか?
高倉健様:かつて、何本もヤクザ映画をやりましたが、シンボルかどうかは分かりません。そうではない役も、今まで沢山やっておりますので。
JSRC: 高倉様が映画の世界に入られたきっかけは何でしたか?
高倉健様:生きるため。
JSRC: 高倉様はどのような種類の映画がお好きですか?
高倉健様:年齢とともに好みは変わってきていますが、心に沁みるものが好きです。
The Deer Hunter, 1978, 監督:マイケル・チミノ
The Godfather 1, 2, フランシス・フォード・コッポラ
Gladiator, 2006, リドリー・スコット
Heaven, 2002, トム・ティクヴァ
Posta Pappi Jaakobille, 2009, クラウス・ハロ
JSRC: 高倉様は任侠道ヤクザ映画で活躍されましたが今時のモダンヤクザ映画には興味はございませんか?
高倉健様:ありません。
JSRC: 高倉様は日本のクリント・イーストウッド、安藤昇様は日本のアラン・ドロンと呼ばれていますがその事についてはどうお感じですか?
高倉健様:他人が思うことなので、分かりません。
JSRC: 高倉様は1976年に東映を離れたのはなぜですか?
高倉健様:一口では言えません。
JSRC: 東映を離れてからの高倉様の作品から世界は今までとは別の高倉様を見せられるわけですが、それは高倉様の目的でもあったのでしょうか?
高倉健様:人との出会いです。
JSRC: 北野監督、三池監督はヤクザ映画作りの天才だと思いますか?
高倉健様:両監督とは仕事をしたことがないので答えられません。
高倉健様:東映時代のヤクザ映画に注目されているようですが、ヤクザ映画が大衆の支持を受けられたのは、時代背景抜きには考えられないでしょう。
プログラムピクチャー全盛時代、一ヶ月に4、5本撮るようなスケジュールは1本に心を入れる余裕はありませんでしたが、その中で、私が演じた役に大衆の共感が得られた背景には、不条理に立ち向かうという姿勢が貫かれたからだと思います。
ただ、切り込みに向かうのではなく、自らを犠牲にしてまでも大切な人を守り抜くということです。
東映から独立して最も異なることは、出演する作品を選べるようになったことです。出演作を選ぶ基準は、人との出逢い、脚本に書かれた一言の台詞、最も大切にしていることとは、その役の人物を好きになれるかどうかです。