The Lord Of Umbrellas. One かさ to rule them all. 晴雨兼用傘 (Dual Use Umbrellas A Must For The Rainy Season)
"One umbrella to rule them all"
Get out your umbrellas! Just one should do it. May is the start of  the rainy season, or tsuyu/梅雨.  It is expected to come early this year. It can be so sunny and warm when you leave your home early in the morning, that you go out wearing just a T-shirt. But the danger in this season, is that you can get caught in a rain storm, with thunder and lightning on the same afternoon.
Last Sunday, on the last day of the Japanese "Golden Week", everyone who was in Tokyo may remember the heavy rain, almost a twister (tatsumaki, 竜巻) that hit the Yurakucho-Tokyo-Akihabara area.
The heavy cloud broke around 4pm in Akihabara station, and the noisy crowd of people dispersed to take refuge under any thing that could protect them from the sudden rain. Nobody saw the thunderstorm coming. Most of the unprepared people didn't bring an umbrella to hang around in town on a Sunday afternoon that started with a very warm and sunny morning. (Some of us, Tokyo gaijin reporters, were even having a light and healthy brunch and spicy tomato Bloody-Mary at an outdoor terrace, near the United Nations' University earlier in the day).
Most of these people know the "300 yen umbrella" you can get at any conbini (convenient store). They are convenient and available anywhere, if a storm breaks. However, the problem is that you might end up with a pile of those transparent see-through umbrellas. They break very quickly due to their cheap frames.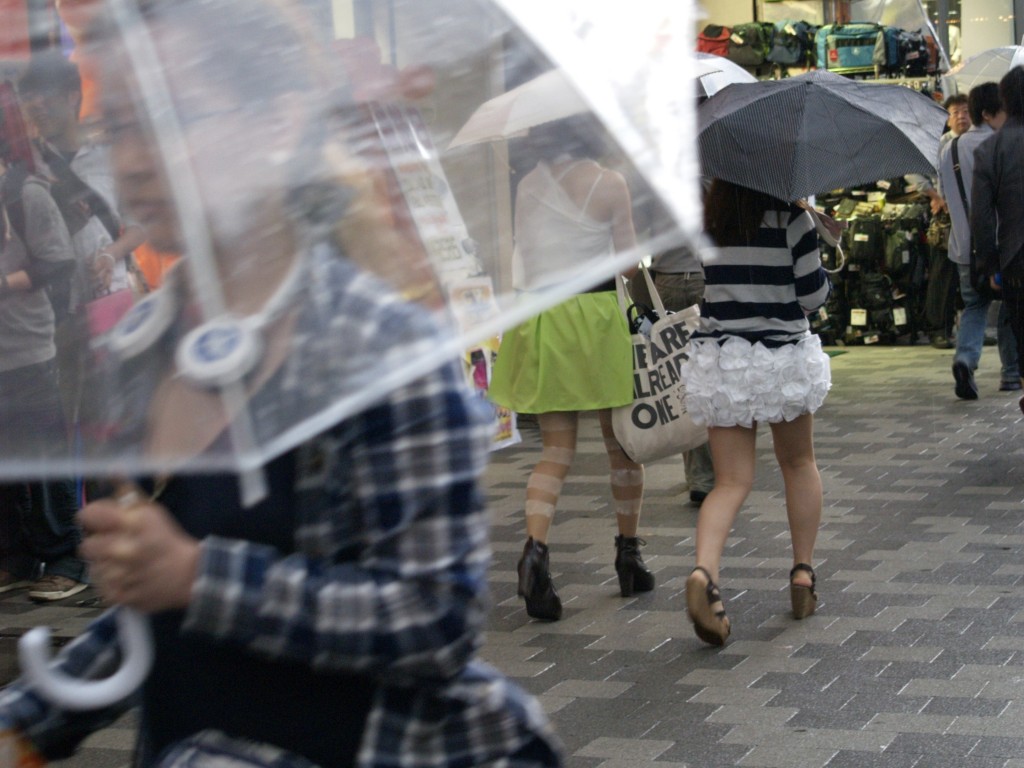 If your country also has a "rainy-unpredictable" season, you should get a "sun & rain umbrella" (晴雨兼用傘/seiukenyogasa), the one umbrella  to rule them all. In Japan, we found a store that sells an infinite selection of beautiful and colorful umbrellas. But they are not just ordinary. They protect the modern urban walker from the sun, as well as from the rain. They are UV proof and waterproof.
Although we start to see people protecting themselves from the sun using umbrellas in Europe, when I walked around in Geneva or Paris in a hot mid-summer afternoon, with one of those Japanese "S & R umbrellas", people looked at me with suspicion. Some children would even tell me: "Are you wet, Madame? 'Cause it's not so much raining right now!" In the busy streets of Tokyo, it's a natural thing. You find many females, younger and older, walking under the sun with umbrellas. They are using them to protect themselves from the radiation of the sun, which can also cause skin cancers and they use them on rainy days as well. Is this marketing, or is it efficient? The explanations about the product are clear: yes, the umbrella cloth is UV proof, and it protects you as well as a usual rain umbrella. (We have tested it personally.)
The dual use umbrellas are worth investing in if you can manage to keep ahold of them longer than a few days. Umbrellas in Tokyo tend to vanish as quickly as bicycles.
Editor's note: These umbrellas are really light and strong, so even if you don't really care about getting a tan or wouldn't be caught dead walking around with a sun umbrella–they are pretty good buys. (We all know that men who care about their skin have to wear baseball caps or lots of sunscreen but never, never a sun umbrella.)  The only thing that these umbrellas lack is a solid titanium core so that you could use them to club someone into unconsciousness. A hidden blade would also be nice but a violation of the sword and firearms law. Until we have a combat version, the current models will have to do.–Jake 
Writer's note: The cutest Sun/Rain umbrellas can be found at Loft, or Tokyu Hands, but Minipla (the cute shops that are in the subways) are also very cute and useful. The last feature image on this text was taken at Loft Yurakucho by the editor. (They cost between 1900 yen and 2010 yen.) — Nathalie-Kyoko