Originally posted as Fuzoku Friday: Finding a Job That's Right For You on November 20th, 2009
Last week we talked about magazines and websites for fuzoku job hunters, but for those looking to dive into the industry and start their career in high-paying part-time work (高収入アルバイト), the variety of work available must be daunting. How is a girl to know what kind of job best suits her personality?
LunLun Work is once again here to help, with a handy work guide that simply and clearly lays out a description, demands and money-making potential for sex industry jobs from "lingerie cabarets" to soaplands. For example: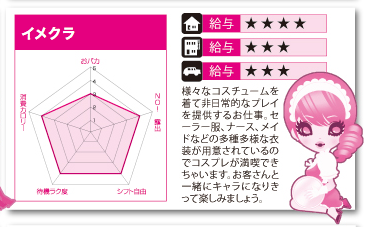 Image Club
Good for idiots: 3
No nudity required: 4
Work when you want: 4
Easy stand-by: 4
Calorie burner: 4
Payment: 4-stars (At a shop) 3-stars (Delivery-style)
Here girls dress in various types of costumes, such as a schoolgirl, nurse or maid, and roleplay with customers. Playing pretend can be fun!
Continue reading The Japanese Sex Industry: Finding a job that's right for you (REPOSTING) →