The UN committee does not give ratings to countries on well they are doing in "eliminating racial discrimination" but the essence of third improvement order to Japan was: "you're failing miserably. Do something."
Japan gets its first dengue fever outbreak in 60 years.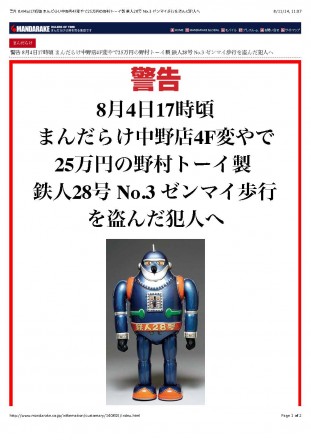 "I love the sort of monster figures and dolls that appear on Ultraman, and I wanted to buy more with the money I made from the action figure [I stole]," explained Iwama, who has been working a series of part-time jobs. According to the police, Iwama says that he noticed the glass case holding the robot was unlocked and stole it on impulse. He then sold the robot to another manga goods store for 64,000 yen ($640) several days later. The police tracked him down from that sale. When they searched Iwama's home in Chiba, Japan, they found a large collection containing dozens of monster action figures. Police are now investigating to see whether other stolen nerd contraband is in the collection.