The Japan Times published in last Sunday's paper a mammoth of an interview with Jake by Mark Schreiber, stretching almost two entire pages across the Time Out section. While the news media is in no shortage of interviews with Mr. 'Viceman' Adelstein, this one is worth the read because, as Jake put it, "there's little or no mention of liver transplants or UCLA, for a change."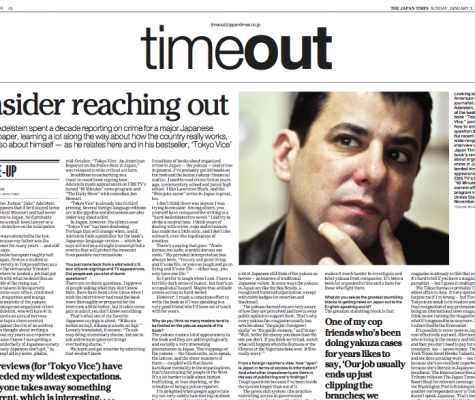 Author Joshua "Jake" Adelstein supposes that if he'd stayed home in rural Missouri and had never come to Japan, he'd probably have become a small-town lawyer or a very happy detective on the local police force.
"I was always attracted to the law, probably because my father was the county coroner for many years — and still is now," he says.
But Adelstein has spent roughly half his life in Japan, first as a student at Sophia University in Tokyo and then as a reporter for the vernacular Yomiuri Shimbun, where he landed a job that put him in touch with what he describes as "the dark side of the rising sun."